China stabbings: Man held over Shenzhen deaths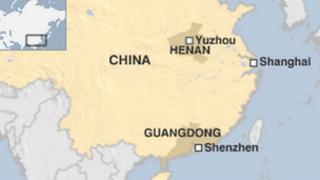 Police in China have detained a man for stabbing three people to death in the latest fatal knife attack in the country, state media report.
The man, known only as He and said to be mentally ill, also injured several others in Shenzhen, Guangdong province, police told Xinhua news agency.
His arrest comes two days after another man was arrested in Henan province for a knife attack that killed five.
The stabbings follow a number of recent violent incidents in China.
A motive for the attack in Shenzhen was not immediately clear.
Mr He, 40, ran to a restaurant on the side of the road where he seized a knife and inured the owner, Xinhua says. He then began to randomly attack people on the street.
He was later taken to hospital for treatment after he cut himself during his rampage, Xinhua adds.
Meanwhile, Ding Jinhua, 38, was captured in Yuzhou city after he reportedly killed three people in his home village and two others in a nearby city in Henan.
The reason behind his attacks may have been linked to a land dispute, AFP news agency said, citing the Henan Business Daily.
Chinese media have reported a series of knife attacks in the past week.
A villager in Guangxi province was arrested after he stabbed to death two officials enforcing China's one-child policy.
A man also stabbed four people at a Carrefour shopping centre in Beijing, leaving one person dead and three wounded.