Chinese toddler dies after parking space row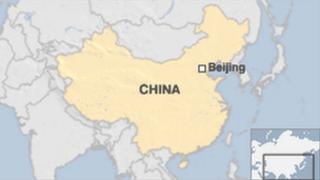 A Chinese toddler has died in a Beijing hospital after being wounded during a row between her mother and a man over a parking space, state media report.
They say the two-year-old girl suffered critical injuries on Tuesday when the man pulled her out of her pram and threw her to the ground.
He also reportedly beat the mother, who had refused to make way for his car, while she attended to her daughter.
The driver was arrested. He could face execution if he is tried for murder.
Police also detained a second man in the case, who was allegedly a passenger in the car and helped beat up the woman.
The toddler died on Thursday night after being kept alive on a respirator, Chinese state media said on Saturday.
The assault happened when a man, identified only by his surname Han, wanted to park his car by a bus stop in Beijing.
But the toddler's mother was standing in the parking spot and refused to move her pram.
The driver got out of his car and hit the woman before removing her daughter from the pram and throwing her forcefully to the ground, a witness said.
"The baby made no noises after being dropped, not even a cry of pain," the Beijing Times quoted the witness as saying.