China media: Economic concerns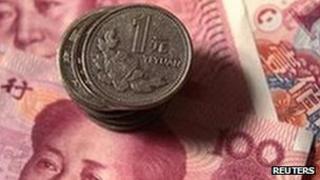 Media raise concerns over opaque local government debt as a nationwide government audit is announced.
The announcement of an urgent audit into governments at all levels - from villages to the central authorities - made the Economic Information Daily wonder whether a "black hole" of massive local government debt could derail the world's second largest economy.
Although the Southern Metropolis Daily and the Beijing Times play down the prospect of local governments declaring a Detroit-style bankruptcy, they highlight the problem of opacity in government spending.
"A consensus must be made explicit as soon as possible: Local government operations are not like the operations of a real estate company and they must never pursue a 'high-debt, high-risk, high-return' investment model," says the Guangzhou Daily.
Meanwhile, The People's Daily says the Beijing government will spend 500bn yuan ($81.5bn; £53bn) on a massive urban renewal scheme to clear away shantytowns in the city centre within five years.
Officials say there are 527 shantytown areas housing 700,000 residents within the Fourth Ring Road, with families squeezed into tiny shacks as small as 20 square metres. Demolition work can only proceed if more than 90% of residents in each shantytown agree to compensation and re-housing terms.
Singer detained
Elsewhere, Beijing rock singer Wu Hongfei's detention on suspicion of "fabricating terrorist information" after she wrote on her microblog about wanting to blow up a local housing commission has ignited a debate in the Jing Bao, the Chengdu Commercial Daily and other press over the boundaries of free speech. Her lawyer says she was just venting frustration.
Concerns over social unrest and public anger towards the authorities following a spate of violent incidents across the country continue to preoccupy many newspapers, including the People's Daily and the Global Times.
The Beijing News recalls how a disgruntled petitioner set off a bomb in Beijing's international airport, a man killed a toddler by throwing her to the ground during a road rage incident and 11 people died in an arson attack on an elderly people's home in July.
A "400% disparity in compensation" for the families of 11 elderly people killed in a private nursing home fire in Hailun, Heilongjiang province, last Friday has led to an outcry in the Yangzi Evening News.
The Beijing News exposes a privately-run internet forum where people are reportedly bartering huge sums of money to adopt children and buying fake birth certificates through traders.
"A lot of baby trafficking is also likely to exist. Adopted children must not be allowed to be turned into private money deals," the newspaper's editorial comments.
In international news, Burma (Myanmar) has opened a pipeline supplying natural gas to China's southwest Yunnan province.
"China's investment in Myanmar's Myitsone dam and the Letpadaung copper mine has suffered major setbacks, which has seriously affected the enthusiasm of the Chinese towards investing in large-scale projects in Burma... Myanmar must take relations with China seriously. The Chinese will treat the Burmese attitude on oil and gas pipelines as a touchstone of their basic attitude towards China," says the Global Times.
Korean War
Hong Kong's South China Morning Post tells of how Beijing is still "reluctant to declassify documents" that might finally shed light on the decision to rush to North Korea's aid in 1950 amid scepticism among some veterans.
"Although they are often hailed by the state media as national heroes, veterans of the Chinese People's Volunteer Army (PVA) continue fighting a seemingly hopeless war for better retirement benefits," the Post adds.
An ongoing compensation dispute in the wake of an Asiana Airlines crash in San Francisco's airport has led the Wen Wei Po, a Beijing-backed Hong Kong newspaper, to accuse the United States of covering up "grave errors" that led to the deaths of two mainland teenagers.
And finally, there is widespread relief in the China Youth Daily and many other newspapers after the Chinese men's football team beat Australia 4:3 in the East Asian Cup on Sunday. A series of embarrassing defeats led to foreign coach Jose Antonio Camacho being sacked.
BBC Monitoring reports and analyses news from TV, radio, web and print media around the world. For more reports from BBC Monitoring, click here. You can follow BBC Monitoring on Twitter and Facebook.