China police rescue 'baby sold by maternity doctor'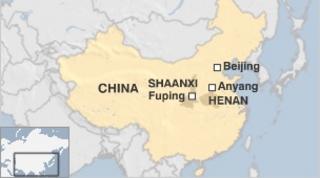 Police in China have rescued a baby boy allegedly sold by a maternity doctor, Chinese media report.
The baby, born in Shaanxi province, was found early on Sunday in neighbouring Henan, reports said. A DNA test was conducted to confirm his identity.
State media said the doctor told the baby's parents that he had serious congenital diseases, and convinced them to entrust him to her care.
The parents went to the police after they suspected they had been tricked.
Three managers at the hospital had been dismissed pending further investigation, state-run newspaper China Daily reported.
Three suspects - the maternity doctor, and a man and women suspected of trafficking and selling the baby - had also been arrested, the newspaper added.
The baby was born in Fuping Maternal and Child Healthcare Hospital on 16 July, Xinhua news agency reported.
An obstetrician, surnamed Zhang, told the infant's parents the baby was suffering from serious congenital diseases that would require extensive treatment, and convinced them to entrust the infant to her care instead, state media said.
It is not clear how long this arrangement was expected to last.
On 17 July, Ms Zhang sold the infant for 21,600 yuan ($3,500; £2,300) to the two other suspects, who sold the baby to another buyer for 30,000 yuan ($4,850; £3,100), China Daily reported.
The parents reported the case to police on 20 July after they suspected that their baby had been trafficked.
The baby was found in Anyang district in Henan province on Sunday, police said. No information was released on who the baby had been sold to.
Local police said they were investigating five other similar cases which were said to have occurred in the same hospital, Xinhua reported.
Under China's strict population control policies, most couples can only have one child, and there is a strong preference for healthy baby boys.