Chinese man's staged death thwarted by heat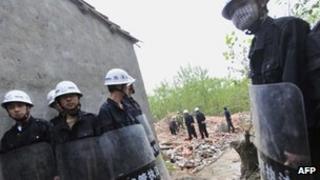 A Chinese man who tried to fake his death at the hands of security personnel gave himself away amid searing heat, state media reported.
The vendor pretended he had been beaten to death by China's urban management workers, while his accomplices demanded compensation, local media said.
The scene in Hubei province drew 300 onlookers and 80 police officers, until the man jumped up to get a drink.
"It's too hot. I can't bear it anymore," he reportedly said.
China's urban enforcers, also known as chengguan, are deeply unpopular with the Chinese public after a series of high-profile violent incidents.
Last month, six enforcers were detained after a fruit seller in Hunan died after being hit on the head amid an altercation.
'Corpse'
The soft drinks vendor, who was identified only by his surname Han, attempted to stage his death in Hubei's provincial capital, Wuhan, on Saturday, state-run news agency Xinhua said.
More than 10 men carried the "corpse" on a stretcher and demanded compensation for his "death" at the hands of the chengguan, Xinhua added.
Photos from local newspaper Wuhan Evening News show a crowd gathered around the prone vendor, who was covered by a white sheet.
Police were also dispatched to maintain order, reports said.
However, the ploy was revealed two hours later when Mr Han jumped up, saying he could no longer bear the scorching heat, Xinhua said.
Photos showed him drinking from a water bottle after he had thrown off the white sheet.
Temperatures in parts of China have hit record highs, with an emergency heat alert being issued in July for nine provinces, including Hubei.
Mr Han and two others have been detained for disturbing public order, Xinhua reported.
Mr Han told police that the drinks vendors had clashed with the chengguan after the enforcers told them their drinks stands were blocking traffic and confiscated their products, Xinhua added.