China media: Snowden saga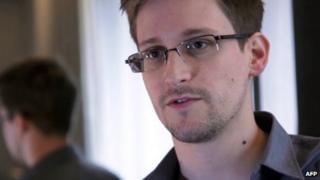 State media are calling China "another winner" besides Russia in the US whistleblower Edward Snowden saga.
The Global Times says "the US is the only loser" in its battle to extradite Edward Snowden to stand trial for leaking intelligence secrets.
It also defends Beijing's "non-intervention" approach and avoidance of direct conflict with the US by not giving asylum to Mr Snowden.
"Many people on the internet are asking: Why couldn't China have acted like Russia? They think that China should have done what Russia did and that we displayed 'hesitation and weakness'," it notes.
"The situation between China and the US is different from that of Russia and the US. The US has many more opportunities and means for retaliation against China," it adds.
Chinese commentators are also divided over the implications of US President Barack Obama's cancellation of a summit with Russian President Vladimir Putin in the wake of Moscow's decision to grant temporary asylum to Mr Snowden.
"With no other choice, the US may have had to cash this card to save face. Regardless of the final outcome, the US knows that even this measure cannot resolve the problem, and it can only make US-Russia relations decline further," comments retired diplomat Pei Yuanying in the Jiefang Daily.
However, Ma Feng, a professor of international politics at Shandong University, believes Mr Obama's snub will not greatly affect Russia-US interests.
"Faced with the growing dual pressures of a weak domestic economy and foreign challenges, the US needs Russia's support and help on a series of major international and regional affairs and it will not harm its greater interests because of a Snowden... Russia-US relations cannot fundamentally improve, but they are also less likely to deteriorate quickly," he writes in the People's Daily.
Foreign dairy firms continue to come under fire by some state media for recalling products amid a scare over botulism-causing bacteria.
However, the Beijing Times is sceptical whether the government's decision to impose its biggest fine for alleged price-fixing on six infant formula producers will help boost the domestic dairy industry which has yet to fully recover from a tainted milk powder scandal in 2008.
'Cancer villages'
Meanwhile, The Beijing News says a survey by the environment ministry shows that an inadequate sewage system is causing acute downstream pollution in almost all of Beijing's waterways in urban and rural areas.
Elsewhere, the China Daily says a government study has reconfirmed the existence of "cancer villages" along the 1,000-km Huaihe River that runs through the central provinces of Henan, Anhui and Jiangsu.
The study links pollution from factories to a startling rise in cancer rates in local villages since the 1970s.
The Beijing News says a 62-year-old teacher has confessed to police that he molested seven young school girls left behind by their migrant worker parents in a remote village in Ruichang, Jiangxi province.
Some of the parents complained that authorities in Ruichang had tried to persuade them to sign a deal agreeing not to pursue the case in exchange for a pay-off.
And finally, the Southern Metropolis Daily shows screenshots of now-deleted photos featured on the Global Times and Xinhua news agency purportedly showing a woman being executed by lethal injection that may have come from a fetish porn website.
The photo galleries, entitled "Actual record of female prisoner's execution, world's darkest side unveiled", have become an "own goal" for China's state media and an "international laughing stock", comments Hong Kong's Oriental Daily News.
BBC Monitoring reports and analyses news from TV, radio, web and print media around the world. For more reports from BBC Monitoring, click here. You can follow BBC Monitoring on Twitter and Facebook.