Famous trials of China's Communist Party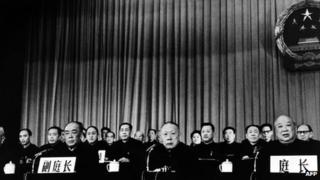 At the height of his power, Chongqing's smartly-dressed party chief, Bo Xilai, appeared to relish his time in the public eye. So on the eve of his trial for corruption, Mr Bo must be feeling rather lonely after spending more than a year behind locked doors.
But as a person whose family history is intertwined with the Communist Party's own twists and turns, Mr Bo probably realises he has joined a small but notorious group.
Starting with the dramatic Gang of Four trial in 1980, several high-ranking communists have faced a Chinese courtroom.
Gang of Four
The so-called Gang, including Mao Zedong's widow, Jiang Qing, were blamed for deaths and despair caused by the decade-long Cultural Revolution.
The televised trial was attended by more than 800 people and 300 journalists. Jiang fought the charges, sobbed on several occasions and, at one point, had to be ejected from the courtroom. The country was transfixed.
"Not many people had televisions back then, so we would gather at friends' and neighbours' houses to watch the trial together," said historian Zhang Lifan.
"The Gang of Four caused a lot of anger among the public. People wanted them to suffer."
Once the blood-letting was over, Beijing changed the way it dealt with wayward officials: now, high-ranking politicians who lose battles of elite infighting do not face public political trials. Instead, they are saddled with corruption charges.
"Those who win become emperors," a traditional Chinese idiom says about political struggles. "Those who lose become bandits."
"This is a new invention," said Dr Bo Zhiyue, a senior research fellow at the East Asian Institute of the National University of Singapore, who studies elite Chinese politics.
"Since the 1990s, [Chinese leaders] deal with political power struggles through legal means. So whoever is a political rival, they will deal with him by making him a corrupt official."
Corruption trial
The new model debuted in 1998 following the arrest of Chen Xitong, a former party boss of Beijing and a Politburo member.
Following a short, tightly-scripted trial, Chen was found guilty of embezzling money in order to build luxury villas and "misappropriating" expensive gifts.
After he was released from prison in 2006, Chen spoke out against the case, blaming his time in prison to the fact that he lost a political struggle against then-President Jiang Zemin, not a legal one.
The corruption trial of Shanghai Party Chief Chen Liangyu in 2008 followed a similar pattern.
The second Chen is still languishing in prison after he was found guilty of accepting $340,000 (£217,000) in bribes and abusing his lofty position.
Insiders believe his true crime was running foul of his political rival, Hu Jintao.
Similarly, Bo Xilai formed his own power base in the western metropolis of Chongqing and threatened to disrupt Beijing's strict hierarchy, Singapore's Bo Zhiyue explains.
Eventually, Bo Xilai's enemies united against him. His spectacular fall from power in 2012 led to the conviction of his wife Gu Kailai for the murder of British businessman Neil Heywood.
The Chinese public would not feel the same personal connection to Bo Xilai's fate as they did with the Gang of Four, but millions will still follow this week's trial in Jinan province.
"The public enjoyed the Gang of Four trial because Jiang Qing rebelled against the process. Then, Chen Xitong and Cheng Liangyu both co-operated with the court," said historian Zhang Lifan.
"People are interested to see if Bo Xilai will deny the agreement made before which shows that he is guilty and do something unexpected.
"There will be more power battles ahead," Zhang Lifan said, with a knowing smile.
"Even higher-level rivals will be cleared out of the way using anti-corruption as an excuse. We should keep watching."