Tajikistan independence tree 'dies in Dushanbe'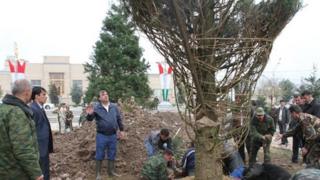 A 50-year-old tree planted in the Tajik capital, Dushanbe, by President Emomali Rakhmon to symbolise the country's "eternal independence" has withered and died, local people say.
They say that the tree - imported from the US - died because of dehydration.
Normally a coniferous sequoia can live for up to 3,000 years.
But it appears to have suffered as a result of a heatwave earlier this year that pushed temperatures as high as 45C (113F) in the centre of Dushanbe.
Correspondents say that while the Tajik climate does not make the country an obvious choice to plant coniferous sequoias, a similar sequoia near the new foreign ministry building - which was not planted by the president - is in a better condition.
Local media report that the tree is the second "eternal symbol" in Tajikistan whose existence has been unexpectedly curtailed.
In 2004, a 23m (75ft) tall monument bearing the Latin inscription "Perpetuum Vita" (Eternal Life) collapsed in Dushanbe a day before President Rakhmon was scheduled to unveil it.
Earlier this year a Tajik flag that officials proclaimed was fluttering at the top of the world's tallest flagpole was blown down in strong winds in Dushanbe.
The president - accused by rights groups of harassing opposition leaders - has governed the war-ravaged mountainous Central Asian country of nearly eight million people for nearly 20 years.
In 1997, he negotiated a deal with secular and Islamist opposition groups to bring an end to Tajikistan's five-year civil war that claimed tens of thousands of lives.