China media: Bo Xilai trial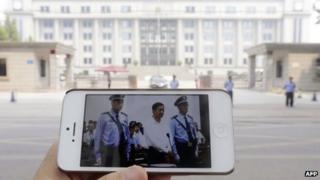 Chinese news websites are closely watching the trial of disgraced politician Bo Xilai, but official media are yet to make specific comments.
Given the political sensitivity of the trial, coverage so far appears to be restricted to terse updates from the court's official Weibo microblog account as well as Xinhua news agency.
There is little specific comment in official newspapers except anti-corruption commentaries with a general "swatting flies and beating tigers" theme.
In recent months, the mainland media have been promoting President Xi Jinping's call for cracking down on high-ranking corrupt officials or "tigers" and not merely "flies" or lower-level corrupt cadres.
Without mentioning Mr Bo, one widely-reposted commentary by the China Youth Daily, the Communist Youth League's official newspaper, warns that "tigers" are more harmful to the government's image than lower-ranking "flies".
"A litany of problems often comes behind 'tigers' - corruption, bribery, a huge amount of property, abuse of power, keeping mistresses... The contrast with their positive image before their downfall will completely shatter the public's previous understanding. This will generate related suspicions and speculation about government departments... Counter-corruption must severely beat 'flies' and 'tigers' together," says the commentary, which was reprinted in the Southern Metropolis Daily today.
Sohu, a Beijing-based news portal, reposts a commentary branding Mr Bo's "extremist thoughts" and ideology a threat to China's development of a market economy.
"The Bo case trial is both a rejection of the extreme thought represented by Bo. It should be a manifesto for correcting misguided thinking and promoting sound political and economic development," it says.
The mainland media are likely to comment further on Mr Bo's case after a verdict is reached.
The state-run China Central Television and most mainland newspapers are instead continuing a high-profile campaign against the social perils of "online rumours".
This campaign was triggered the arrest of four employees of Erma, a Beijing-based internet marketing company, for allegedly fabricating and spreading thousands of "online rumours" about the government, communist party propaganda icons and celebrities.
Hong Kong's South China Morning Post says the arrests have stirred up fears of a wider crackdown on online freedom of speech and liberal opinion leaders.
'Political farce'
Over in Hong Kong, most newspapers are focusing on the political ramifications of the trial rather than the corruption charges against Mr Bo.
"The Beijing authorities are trying hard to give an impression that the punishment of Bo Xilai is a 'purely criminal case'... [Bo Xilai's son] Bo Guagua is living in the US. The Beijing authorities are neither able to extradite him, nor is there a 'need' to take the international risk of harming him," observes the Hong Kong Economic Journal.
"The Chinese Communists' most absurd political farce since the fall of the 'Gang of Four' in 1976 has finally entered the opening stage!" says Hong Kong's Apple Daily.
The South China Morning Post reported this morning that several petitioners protested near the court building as the trial got under way.
"One woman, who declared her support for Bo Xilai, was taken away in a vehicle with civilian licence plates," its live update page says.
"Yesterday, petitioners and Bo Xilai's supporters strongly criticized the rampant corruption and arbitrary acts of mainland officialdom as well as how forcible house demolitions are violating the rights of the people," notes the Apple Daily.
"Some petitioners are wearing clothes with written words of protest in the hope of exposing grievances. They were taken from the court in a police vehicle in the end," the Oriental Daily News adds.
As for social media, thousands of internet users are discussing the trial on popular news portals Tencent and Sina.
Most of the top-ranking posts are calling for a fair and impartial trial or hailing the case as a triumph for the Communist Party's anti-corruption crackdown and the rule of law.
However, it is difficult to verify whether more outspoken or critical posts have been censored.
BBC Monitoring reports and analyses news from TV, radio, web and print media around the world. For more reports from BBC Monitoring, click here. You can follow BBC Monitoring on Twitter and Facebook.