What do people in China think of Bo Xilai's trial?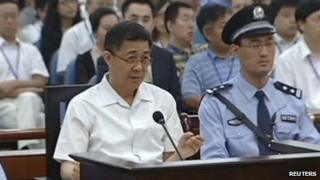 When asked about the trial of former top politician Bo Xilai taking place this week, Lao Zhang, a security guard standing outside a downtown Beijing office building, barely reacts at all.
"The trial has no effect on average people," he frowns, bending down in the afternoon sun to dust off his shoe.
"There are so many corrupt officials out there and they don't have any connection with us."
Public reaction is a difficult thing to measure in China, a country without open forums for free speech.
Public opinion polls on political topics are virtually non-existent.
User frustration
Mr Bo's trial appears to be the dominant topic on Weibo, China's version of Twitter, and the lead story on most Chinese state news outlets.
But Internet comments on the trial are heavily censored. Most of the messages that are permitted to remain on Weibo endorse the government's handling of the case.
"I strongly support the Central Committee of the Communist Party!," reads a typical comment, while another says: "Bo's trial will be crucial for the party's anti-corruption campaign!"
"Bo's trial shows that no special citizens are exempt from the law," reads another.
A small handful of comments express internet users' frustration that their negative views on the trial are being wiped from internet forums.
"If the leaders are truly confident, why do they delete comments? They're cheating themselves and cheating others!" complains a typical poster.
"Texting a trial live by text? That's not right," notes one, while another user complains: "This texting method is just a way to maintain control, since it's easy to filter or censor things."
A relatively small number of people have signed up to follow the details of the trial. Only 409,000 people have signed up to follow Weibo tweets from the Jinan courthouse - a tiny percentage of China's 591 million internet users.
Instead, anecdotal evidence suggests that many Chinese citizens view the Bo Xilai trial as a soap opera taking place in a distant land.
So far, Mr Bo's trial has mentioned French holiday villas, elite private schools in England and wads of cash stored in a family safe - hardly things the average Chinese citizen deals with on a daily basis.
"Those types of people are so wealthy that even the taste of lobster bores them and they just throw it in the garbage," said security guard Mr Zhang.
"What does that trial have to do with people like me?"