Who are China's weibo super stars?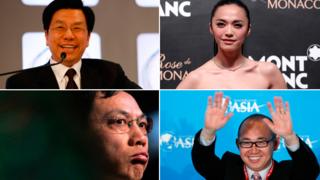 You may not have heard of them, but Asian celebrities Chen Kun, Yao Chen and Guo Degang are more popular than Katy Perry, Justin Bieber and Lady Gaga - at least in the online world.
Chen, Yao and Guo each have over 54m followers on Sina Weibo, China's largest microblog, beating Perry, Bieber and Lady Gaga, who are currently the three most-followed Twitter users.
However, many considered to be Sina Weibo's biggest "superstars" are not celebrities, or even those with the most followers.
Sina Weibo ranks its users by both popularity (number of followers) and online influence (level of activity, combined with the number of active followers and the number of times their posts are shared).
The most influential users, who frequently make headlines in China, include entrepreneurs, property moguls, lawyers and authors. There is even one religious figure among Sina Weibo's top 10.
Lee Kai-fu, technology venture capitalist
Lee Kai-fu, former president of Google China, is one of the most popular weibo users, with 51m followers.
The Taiwan-born entrepreneur is currently the CEO of Innovation Works, a venture capital firm for Chinese technology start-ups.
Popular with many microblog users, Mr Lee's posts are normally shared thousands or tens of thousands of times.
Mr Lee says this has had unexpected effects. In November 2012, he wrote a seemingly innocuous entry about a frozen dessert-maker whose product he had tried.
The post was shared more than 100,000 times, and prompted a surge in sales for the American company, he said.
He is considered critical of internet censorship. In February, his account was suspended for three days after he criticised a state-affiliated search engine.
He received hundreds of thousands of well-wishes in early September after revealing via social media that he had been diagnosed with cancer.
Mr Lee was consistently ranked as the most influential Sina Weibo user until then, but fell down to 14th most influential after he significantly reduced his online activity to focus on medical treatment.
Mr Lee also came under a high-profile online attack from a commentator, Zhou Xiaoping, in October.
Mr Zhou wrote an essay entitled "Ten Questions for Lee Kai-fu", which was published in a magazine managed by China's propaganda department and widely republished in Chinese media. It attacked Mr Lee's integrity, his links to the US and Taiwan, and questioned whether Mr Lee was truly suffering from cancer.
The attack, which came amid a government campaign to tighten controls on Chinese social media users, was seen by Mr Lee's supporters and some analysts as part of a wider campaign to discredit prominent microbloggers.
Ren Zhiqiang, property tycoon
Ren Zhiqiang, one of China's leading property tycoons, is currently ranked seventh in Sina Weibo's influence league.
The chair of Hua Yuan Real Estate Group was once unpopular with much of the public for his apparent lack of sympathy towards people unable to afford houses. He once had shoes thrown at him by a member of the public.
However, his prolific microblog activity has now won him close to 16m online fans, and helped him rebrand his image.
"There is only one path for reform, returning to people the rights that belong to them," he wrote in one recent post.
On another occasion, he questioned: "How can the country rise if the people are poor?"
Rachel Lu, an editor of Tea Leaf Nation, which reports on Chinese social media, told the BBC that "Ren's profile and popularity had gone up a lot" as a result of weibo.
"For most Chinese people, before the invention of weibo we didn't really think that high-profile people would want to speak out about social issues."
Mr Ren frequently engages in online banter with fellow property tycoon Pan Shiyi, chair of Soho China.
Pan Shiyi, Soho China
Mr Pan has over 1.6m followers, and frequently writes about Soho corporate news, current affairs, and his fruit juice cleanses, which he claims have helped him lose weight.
Currently ranked 38th for influence, he demonstrated his online clout when he fronted the PM2.5 campaign in 2011 - an environmental campaign that urged the government to introduce a standard for measuring particles smaller than 2.5 micrometres in the air.
Mr Pan hosted an online poll on the issue and posted pollution readings from the American embassy in Beijing on his feed.
Eventually, several cities introduced PM2.5 standards - although Mr Pan says officials had also accused him of stirring up trouble.
In August, Chinese officials convened a forum for China's top microbloggers outlining "seven bottom lines" that users should follow - reflecting the government's unease about the influence of social media.
Subsequently, Mr Pan compared China's online rules to traffic laws that needed to be followed.
"The internet has been a great impetus to China's social progress," he wrote.
"Officials have started to establish rules, similar to traffic rules that say you must drive on the right and wait at a red light. They've also started to punish rumour-mongers."
Yao Chen, actress
Actress Yao Chen is known as the "Queen of weibo", with 58m fans.
The award-winning actress and mother of one is currently the 27th-most-influential Sina Weibo user. She frequently writes about her films and entertainment news.
A refugee spokesperson for the UN, she has published several posts about the plight of refugees. She has also written about the environment and social injustices, including the forcible demolition of a relative's home.
In a recent post on air pollution, she wrote: "I imagine that many years from now, I'll have the following conversation with my son. Son: 'Mum, what is a clear sky?' Me: 'Isn't it described in the history textbooks?' #Seeing haze everyday!"
In January, Ms Chen voiced her support for Guangzhou newspaper Southern Weekly, which was protesting against censorship from the provincial propaganda chief.
"A word of truth outweighs the whole world," she wrote, quoting Russian novelist Alexander Solzhenitsyn, and linking to a picture of the Southern Weekly logo.
Beyond the superstars
Beyond Sina Weibo's top-tier users, there are many who are still prominent and wield significant influence online.
One is Professor Yu Jianrong, head of the Rural Development Institute of the Chinese Academy of Social Sciences.
He has 1.7m followers and ranks 63rd for influence. He frequently speaks about the rights of rural farmers.
He launched a social media movement urging internet users to upload pictures of child beggars, helping to re-connect abducted children with their families.
Meanwhile Yuan Li, head of the Chinese edition of the Wall Street Journal, appears to be the only foreign media journalist to break into the ranks of Sina Weibo's top-100 influential users. She is currently ranked 99th.
"I see weibo as a very important force in changing Chinese society," she told the BBC.
While she shares Wall Street Journal stories with her 1.6m followers, and writes about freedom of speech and women's rights, she said she also tries to "lighten it up a bit".
"You can't just be serious," she said. "You want to share what you see, what you eat and books you've read."
One of her most popular posts was about her experience at the Hong Kong border - when she was called into an immigration office and asked whether she was pregnant.
"Although I understood that they were doing their jobs, I still felt furious, and discriminated against for carrying a mainland Chinese passport," she wrote in a post that was shared more than 30,000 times.
Hong Kong is cautious about expectant mainland Chinese women who seek to enter the city, as many have sought to give birth there to give their children local residency rights.
Taiwan singer Annie Yi is currently the 95th most influential person on Sina Weibo, with over 9m weibo fans.
She made headlines in January when she published several posts in support of Southern Weekly, which apparently led to her being warned by the Chinese authorities.
"I'm going to have tea... I hope it tastes good," she wrote in January, using a term that describes being summoned by the police.
In September, she drew controversy again after announcing that she would adopt the son of executed street vendor Xia Junfeng as her godson.
Mr Xia was executed for killing two urban security officials in a case that sparked widespread public sympathy. Mr Xia had argued that he acted in self-defence.
"I will subsidise his school fees and help him foster his talent for drawing," she wrote.
Her post generated a huge response online - many supported her move, but she was also criticised for appearing to be sympathetic to a man executed for murder.
A day later, she indicated that she would "no longer interfere with social issues", but added that she would continue to support Mr Xia's son.
Online 'battleground'
Not only liberal voices are prominent on Sina Weibo.
"Conservative voices are actually very influential, and I think they're becoming increasingly so," Ms Lu said.
"A lot of conservatives describe weibo as the battleground where battles between the left and right are being fought."
One prominent voice is Hu Xijin, the editor of the Global Times, with over 4m followers.
On 18 September, the anniversary of the Manchurian Incident which led to Japan's invasion of China in 1931, he wrote: "Wait until China's economic output is 10 times that of Japan's... that is when our national shame will thoroughly be cleansed."
Earlier this month, Mr Hu mused about the nature of China's interaction with the west.
"Has Western pressure on China had a positive impact on improving China's human rights in the long run? It definitely has. Then is there still a need to resist directions and pressures from the West? Yes, it is essential," he wrote.
"Western criticism of China comes first and foremost from their own interests, and learning from these struggles is China's only correct choice," he added.
In recent years, some Chinese army generals have also gone online.
General Luo Yan joined Sina Weibo in February. His inaugural post said: "[Weibo] is a very important battleground, if you don't speak, others will... We must battle for our beloved country, party, army and people!"
He has shared his views about foreign and defence matters, including North Korea's nuclear programme and a group of disputed islands controlled by Japan.
China should introduce "measures to crack Japan's besiegement" of the islands, he wrote, including "preparing a military response to any unexpected incident from Japan".