China mother charged for starving toddlers to death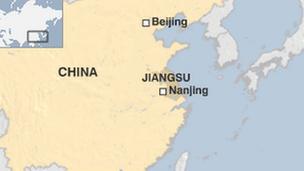 A mother in China has been charged with murder for letting her two children starve to death, police say.
The woman, 22, allegedly locked in her daughters, aged one and two years old, with limited food and water before she left the house in April.
The toddlers were dead when police found them on 21 June in Nanjing, Jiangsu province.
The woman, who is believed to be addicted to drugs, is three months pregnant while awaiting trial.
She allegedly locked the doors and windows and jammed the bedroom door shut with an unused disposable nappy, police say.
The father of the girls was in prison on drug charges during the incident. He has been released and is now living at the flat where the toddlers died.
The mother is currently staying at a hotel.
She was also constantly borrowing food and nappies, they added.
The woman was reportedly on a government subsidy, and police were supposed to visit her home monthly.
However, she would always insist on meeting them outside her home. They grew suspicious when she failed to show up for a meeting.
Related Internet Links
The BBC is not responsible for the content of external sites.