China media: iPhone models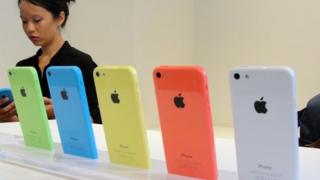 Smartphone giant Apple's latest iPhone models get a mixed reception in the Chinese media, while concerns over a decline in the standard of Chinese language trigger calls to ban English classes for young children.
Apple unveiled its new iPhones in Beijing on Wednesday. However, instead of a live ceremony, the Chinese audience watched a video of an iPhone launch party in California that took place hours earlier.
"Apple's first launch in China for its iPhones went down badly with mainland media and consumers, who were disappointed at the steep price tag and poor arrangements for the event," notes Hong Kong's South China Morning Post.
The cheapest 5S will be sold at 5,288 yuan (£546; $864) while the plastic-backed 5C will cost 4,488 yuan (£463; $733) in China, which is priced higher than rival brands and is being sold for a higher price than in the United States, Chinese media reports say.
"There are many things that Apple can now grasp, but it chooses not to do so. For instance, large-screen mobile phones, cheap versions of the iPhone, TD versions of the iPhone and so on that are more suitable for the Chinese market," writes Xin Haiguang, a journalist, in The Beijing News.
However, some experts feel that Apple's new phones are "the best in the market".
"Once you've finished complaining on the internet today, you will see that the iPhone 5s is still the best smart phone and the iPhone 5c is still the best plastic-shelled smart phone. People will still willingly pre-order an iPhone from the 13th," comments Sina news portal technology columnist Wu Haihong.
In international news, the Global Times says US President Barack Obama "deserves praise" for opting for peace by asking Congress to delay a vote on military strikes against Syria during his televised address to the nation on Wednesday.
Turning to Taiwan, some mainland Chinese media are playing down the impact of the expulsion of the island's speaker of parliament, Wang Jin-pyng, from the ruling Kuomintang (KMT) party over allegations of influence peddling.
"Since administrative resources and party resources are controlled by [Taiwan President] Ma Ying-jeou, and Wang Jin-pyng's character is relatively moderate, the impact of the 'Ma-Wang split' on the KMT will be limited. However, this matter has left uncertainty for Taiwan's political arena in the future," says commentator Xu Lifan in The Beijing News.
Falling Mandarin standards
In other domestic news, a debate over the pros and cons of English-language learning in schools has flared up again.
A former Education Ministry spokesman has publically called for scrapping compulsory English lessons in primary schools in favour of more "guoxue" or traditional Chinese culture classes.
"Abolish primary school English classes. Increase national studies education. Ban children's English crammer schools in society. Liberate children. Save the Chinese language!" Wang Xuning wrote on his microblog earlier this week.
The call by Mr Wang, who now heads the state-run publishing arm Language and Culture Press, comes in the wake of the Education Ministry revealing that 400 million Chinese cannot speak the national language, "putonghua" or Mandarin, properly.
"Today, many highly educated people and even graduates cannot use the Chinese language skillfully!.. Chinese is our mother tongue and a carrier of national culture, as Chinese. If we cannot use Chinese well, this is worrying," writes Yan Yang, a journalist, in the Chongqing Times.
While many commentators are worried over falling Mandarin standards, there is little agreement on how to tackle the problem.
"Public opinion over Wang's remarks is divided. Some people argue that the academic load primary students bear is already too much, so they should focus on learning their mother tongue. Others say stopping English classes would not necessarily guarantee better Chinese-language skills," notes the South China Morning Post.
And finally, after the "Hanging Villa of Beijing" and the "Rooftop Pavilion of Suzhou", Hong Kong's Ming Pao flags up yet another eccentric unauthorised rooftop structure: The "Mid-Air Stilt Villas" of Dongguan.
A pair of luxury villas are propped up on concrete pillars on a building rooftop in the southern city. The rooftop also has a swimming pool.
The Nanfang Daily said on Wednesday that residents are alarmed over the safety of the illegal structure, which is said to be owned by a Hong Kong businessman.
BBC Monitoring reports and analyses news from TV, radio, web and print media around the world. For more reports from BBC Monitoring, click here. You can follow BBC Monitoring on Twitter and Facebook.