China media: Shanghai bloc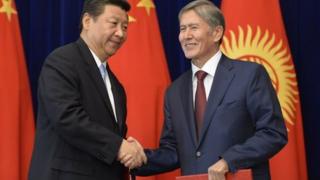 Media are calling on the Shanghai Co-operation Organisation (SCO) to boost economic co-operation and also guard against terrorism and "Western" subversion.
As the SCO summit opened in Kyrgyzstan on Friday, state media echoed recent proposals by Chinese leaders to build two new "silk roads" linking China with South East Asia and Central Asia.
"These two 'silk roads' along with our country's recently proposed 'Bangladesh-India-Myanmar [Burma] Economic Corridor' and 'China-Pakistan Economic Corridor 'will greatly expand the strategic space for our country's economic development... Of course, there are still some risks and challenges in creating a new era of the 'silk road'... China will inevitably have contradictions with some countries," says a commentary in the People's Daily Overseas Edition.
Chinese experts are also welcoming President Xi Jinping's first meeting with his Iranian counterpart Hassan Rouhani since they both took office.
However, the experts see little chance of the new Iranian government relinquishing its right to the civilian use of nuclear energy.
"Since President Rouhani took office in August, he has shown a flexible diplomacy in nuclear talks. But Iran will never change its stance on the nuclear issue and will stick to its right to use nuclear technology peacefully and raise its capability to use nuclear energy," Wu Sike, China's envoy to the Middle East, explains to the China Daily.
The SCO's role in the future of Afghanistan after the US withdraws its troops in 2014 is another key concern.
"The SCO should launch its own plan for the issue of Afghanistan and should position its independent role within an international co-operation framework, rather than being assigned a role by the US and the West," the Jiefang Daily quotes Zhao Huasheng, a Central Asia expert at Shanghai's Fudan University, as saying.
State media are also calling for the SCO to guard against a spill-over of instability from North Africa and the Middle East as well as the "three evil forces" of "religious extremists, terrorists and separatists".
"Turmoil in West Asia and North Africa is have an impact on the stability of the SCO region... Some Western countries and the 'three evil forces' within the territory of SCO member states are co-ordinating with each other from afar to attack the regimes of SCO member states and undermine the efforts made by governments to safeguard people's safety and social stability," Wu Hongwei, a Central Asia expert at the Chinese Academy of Social Sciences, a government-run think-tank, writes in the People's Daily.
'House uncle'
China's official media often blame the "three evil forces" for violent inter-ethnic unrest in Xinjiang, a western desert region that is home to a Muslim Uighur ethnic minority community.
On Thursday in Xinjiang, three people were sentenced to death and another person jailed for 25 years on charges of leading terrorist organisations, murder and arson in an alleged "violent terrorist attack" that left dozens killed on 26 June.
Xinhua news agency says the suspects were part of a "knife-wielding mob" that attacked a local government building and police station in Lukqun township, Shanshan county, which lies in southeast Turpan prefecture. This was one of the bloodiest attacks in Xinjiang since inter-ethnic violence in the regional capital Urumqi in 2009.
However, exiled Uighur groups say the Beijing government is using terrorism as a pretext to suppress civil and religious freedoms in Xinjiang. Information from Xinjiang is highly restricted and it is difficult to verify reports of unrest independently.
In other news, Cai Bin, a former urban management official in Panyu, Guangdong province, has been sentenced to prison for 11 and a half years for accepting bribes totalling 2.75m yuan (£282,410; $446,000).
However, questions are being raised in The Beijing News and the Southern Metropolis Daily on why the charges did not involve a whistleblower's allegations about at least 21 houses acquired illegally by Mr Cai and his family.
One year earlier, a local Communist Party anti-corruption watchdog had verified that the rumours about the alleged 21 properties were true. The allegations earned Mr Cai the nickname "House Uncle".
BBC Monitoring reports and analyses news from TV, radio, web and print media around the world. For more reports from BBC Monitoring, click here. You can follow BBC Monitoring on Twitter and Facebook.