Is China's non-interference policy sustainable?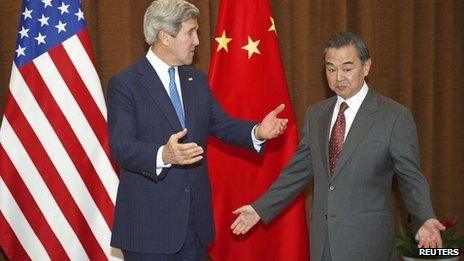 While the US, UK and France pushed for intervention in Syria and Russia noisily blocked them at every turn, China was in the background, saying very little. As Kerry Brown of the University of Sydney argues, today's Chinese diplomats are following a well-worn path.
For more than half a century the foreign policy of the People's Republic of China has been predicated on non-interference, respect for the sovereignty of others, non-aggression and peaceful co-existence. These were the principles set down by Premier Zhou Enlai at the Bandung Peace Conference in 1955.
Over the last six decades, while China has never explicitly strayed from rhetorical support for those principles, it has frequently not practised what it preached. In the late Mao period, it supported revolutionary struggle in the developing world, and in 1979 made a clumsy border intervention into Vietnam. Between 1949 and 1978, it experienced clashes with India, Russia and, in Korea, with the US and the UN.
Its argument in this period would have been simple. It was isolated, defensive and under attack by the US and, from the late 1950s, the Soviet Union. It lived in constant fear, and needed to be prepared to fight back so that it avoided being pulled into a position of humiliating subjugation that it had experienced in the "century of humiliation" after the First Opium War in 1839. The Chinese leaders who won the revolution in 1949 were prepared to act to ensure that never happened again. When issues directly affected their self interest, therefore, they fought back.
China has got richer and avoided military conflict over the last three decades, so the ambiguity of a country willing to get aggressive to defend its interests but at the same time preaching global peace has faded. But it has replaced one contradiction with another.
The problem now is that China's zone of influence and the events that have an impact in it go way beyond its immediate region. Its investments in countries with internal wars and human rights issues in Africa before the 2008 Olympics hurt its reputation and caused it to be labelled hypocritical. The strife in Libya before the Nato intervention in 2011 also had an impact, causing it to evacuate 36,000 people. In Latin America, and South East Asia, its investment interests, resource needs and strategic importance are growing.
However, Chinese leaders still stay as close as they can to the principles of peaceful coexistence and non-interference set out by Zhou Enlai. Despite the fact that the world has changed so radically in this time, these principles are useful because they avoid China being dragged into situations that overstretch and challenge it, they avoid it being pushed into a corner where it can be painted as a foe of the US and the rest of the developed world, and they allow it to continue focusing on its own formidable internal development issues.
China's resistance to taking a higher international profile on difficult foreign policy issues, and its desire to keep away from contentious problems, is becoming much more challenging. Syria has underlined this. It is clear that the countries usually most active for humanitarian intervention like the UK, and most importantly the US, are hamstrung by the reluctance of their populations to get sucked in to another conflict, and by their simple financial inability to continue funding these expensive interventions.
Their inability to do much, however, has not meant the problem goes away. China is as committed to treaties and obligations outlawing the use of chemical weapons as any other major country. The impotence of the usual great interventionist powers has, ironically, only thrown the pressure more on China and Russia to come up with solutions. And while Russia has offered the most recent fresh thinking on dealing with Syria, China is increasingly in the limelight as a country that is obliged to act and do something.
China's economic and diplomatic influence is considerable and cannot be easily ignored. It is almost certain in the years ahead that it will be forced to take up a position on issues it would have once dismissed as beyond its sphere of interest and therefore of no relevance to it. Its global economic reach means its political and diplomatic power is becoming one of the most potent new forces in world affairs.
A low international profile for China has served it well, steering it clear of complicated issues in the Middle East and elsewhere and meaning that it has some of the most extensive links across the globe now without bringing it into direct conflict with the US.
China has done all it can to avoid being talked of as a global counterweight to the US, or as part of a new US-China alliance (known as a G2). Syria however has shown that even if the US and its allies run out of answers, that does not stop the problems of conflict in other countries than one's own being a threat and the obligation to come up with answers to this.
That Russia is now proactively seeking a solution means that China, a country which hates being diplomatically isolated, will need to decide whether it wants to go along with a more interventionist route, and what diplomatic levers it can pull. On issues closer to home like North Korea, too, it will, whether it likes it or not, be forced from self interest to approach issues in a different way, and act increasingly against the non-interventionist rhetoric it has used for so many decades.
The other side of this issue for the rest of the world is to prepare for a more vociferous, more active China, and one that cannot be regarded with a constant nervousness and shouted down with accusations of being "aggressive". China needs to get its messages across better, but it needs to be listened to in a different way. These are the mutual challenges of the era of new diplomacy we are now moving into.
Kerry Brown is professor of Chinese politics at the University of Sydney, team leader of the Europe China Research and Advice Network (ECRAN) funded by the European Union, and an Associate Fellow of the Asia Programme at Chatham House.