China toddler death: Suspect trial begins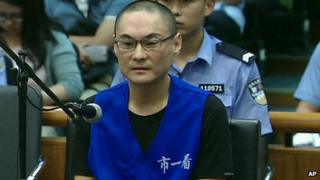 A Chinese man accused of throwing a toddler to the ground during a parking space row has been put on trial in Beijing, state media report.
Han Lei reportedly pulled the two-year-old girl out of her pram and threw her to the ground after her mother refused to make way for his car.
The girl later died from her injuries. The incident, in July, sparked a public outcry.
Han Lei has been charged with intentional homicide.
The trial began on Monday morning at the Beijing No. 1 Intermediate People's Court, Chinese media said.
Han Lei also beat the mother during the altercation in Beijing's Daxing district, reports said.
Another man, Li Ming, who drove Han Lei away from the scene, is also being tried.
The prosecution said that Han Lei had acted violently and brutally over an argument, and recommended the death penalty, state broadcaster CCTV said.
According to quotes carried by CCTV, Han Lei told the court that he had mistaken the pram for a shopping cart, and thrown it in anger because he did not want to fight with the woman.
"I thought all along that it was a shopping cart, not a pram," he said. "I did not know there was an infant inside."
Microbloggers divided
The trial has generated intense discussion on China's microblogs, with searches for "Beijing toddler throwing case" ranking within the top 10 searches on Sina Weibo.
Opinion was split over the prosecutor's call for the death penalty. Many weibo users said that Han Lei should be executed.
Microblog user Asian Dragon Warrior wrote: "I support a death sentence, since we know of the principle of paying for killing with one's life... this is the only way to ensure people constrain their behaviour. One must think carefully before acting, and the law is more than a decoration, so offenders should be punished."
However, Sina Weibo user Manchester United Number 11 wrote: "Unsurprisingly, the Beijing toddler throwing trial has prompted widespread cries for the death penalty. Han Lei's crime cannot be forgiven, and he should be punished, however this should be determined by the law."
"Was Han Lei suffering a mental disorder, or is there a possibility it was a crime of passion? Is there any fault on the infant's mother's side in this case?" another weibo user wrote.
The trial has prompted many to reflect on Chinese society more generally. User Xiao Ge Bu Shuai Ao wrote: "The only way to stop this tragedy happening again is for everyone to respect each other more, with a little more tolerance, and seeing things from another's point of view more."