China media: Toddler's death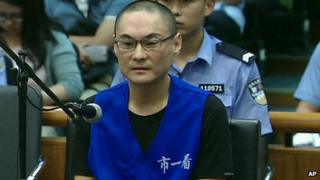 Media work to calm public anger over the trial of a man accused of killing a toddler by throwing her to the ground.
Han Lei reportedly pulled the two-year-old girl out of her pram and threw her to the ground after her mother refused to make way for his car in July this year.
The girl later died from her injuries, sparking a public outcry.
Han Lei fuelled further public anger when he insisted that the killing was unintentional during his trial on Monday at the Beijing No. 1 Intermediate People's Court.
According to the court's transcript released to the media, Han Lei said he had was heavily drunk at the time and had mistaken the mother's pram for a "shopping cart" and threw it down without realising there was a toddler inside.
"The statement [by Mr Han] aroused new waves of anger from the public. Many people, already shocked by the brutal killing, expressed their fury online, dismissing it as 'shameless lying'," says the Global Times.
Some papers, however, say Han Lei has a "right to defend himself".
"The brutal fact that a baby girl was thrown to her death has made public opinion 'pass a guilty verdict' on him... But no matter how absurd the defendant's reasons are, he has a legitimate right to defend himself. We cannot deprive defendants of the chance to defend themselves because of the evil nature of their crimes," say a Beijing Times commentary.
Prosecutors have demanded a death sentence for him. The court did not give an immediate verdict or announce when the case will reopen.
Turning to the economy, the China Daily says government on Monday lowered the minimum level of "acceptable" annual growth to 7% to steer the country towards a sustainable growth model and tackle growing unemployment.
In other news, the Guangzhou Daily, Beijing Times and other newspapers are calling for a tougher crackdown on hospitals and doctors getting alleged kickbacks from foreign firms.
On Monday, China Central Television ran an expose quoting a former sales manager of Dumex, a baby food subsidiary of the French dairy giant Danone, claiming that the firm bribed doctors and nurses in hospitals in northern Tianjin to use its products.
Dumex says it is investigating the allegations in the CCTV report.
School concerns
The Modern Express and The Beijing News are calling for the government to be less "secretive" about genetically modified (GM) foods in China to calm "public panic". They are demanding more transparency in the wake of the government's newly released list of approved GM foods grown in the country, including cotton, rice, corn and papaya.
There is soul-searching in the Beijing Times after a secondary school student from Fuzhou, Jiangxi province, surrendered to Shanghai police on Monday after allegedly stabbing his head teacher to death for confiscating his mobile phone because he was playing with it during class.
The China Youth Daily and the Guangzhou Daily accuse management at the City College of Dongguan University of Technology in southern Guangdong province of being "inhumane" and heartless for requiring new students to sign a "disclaimer" holding themselves fully responsible if they commit suicide or injure themselves on campus.
Meanwhile, the China Youth Daily is dismayed at a growing trend of high schools imposing stricter rules on interaction between pupils of opposite sexes, such as boys and girls keeping more than 50cm apart and dining on separate tables.
One school in the eastern coastal city of Wenzhou is even threatening to punish pupils of the same sex for becoming "too close" to discourage homosexuality, it adds.
And finally, local district authorities in Guangdong's Zhaoqing are under fire for using public funds to organise trips for their cadres to visit the sights of the famous tourist resort of Guilin, including "obscene pole-dancing" shows.
"Take away their civil servant rice bowls, let them step down," the Nanfang Daily quotes one anonymous netizen as saying.
The case was reportedly exposed by a netizen nicknamed "Xiaoxing Lady of Justice" on Sunday in a post on the internet, it adds.
BBC Monitoring reports and analyses news from TV, radio, web and print media around the world. For more reports from BBC Monitoring, click here. You can follow BBC Monitoring on Twitter and Facebook.