China media: Online rules questioned after arrest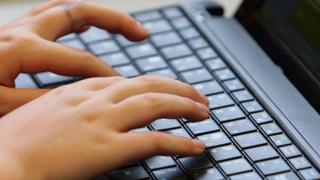 Some Chinese newspapers and netizens are raising questions about the viability of the country's new online rules after a teenager was arrested over a microblog post.
Local authorities say a teenager in Zhangjiachuan county in northwest Gansu province has been put in criminal detention after his post alleging police negligence was "forwarded more than 500 times" by other internet users.
It is the first such case reported by mainland media since authorities issued new rules last week allowing the detention or even jailing of netizens for posting defamatory messages online that are reposted at least 500 times.
On Thursday, the Beijing Times quoted a man identified only by the surname Yang as saying that police took away his 16-year-old son on Tuesday on suspicion of "seeking discord and provoking disputes".
The newspaper says the boy posted messages on social media on 14 September accusing local police of "inaction" in investigating the death of a karaoke bar manager, whose corpse was found on a pavement on Thursday last week.
The boy also allegedly said police had beaten and detained the family of the deceased for insisting that the man had been beaten to death in a dispute and for trying to prevent the man's body from being taken away.
However, a police autopsy concluded that the man died from a head injury after jumping from a building.
Police say the boy "fabricated facts" that "disturbed public order".
Some lawyers and netizens question whether county authorities had legal grounds to detain the boy.
"The case has triggered discontent among netizens. Netizens are worried about an abuse of power by the police. They are asking, how can raising suspicions equate with rumour mongering?" notes Hong Kong's Ming Pao.
"More than 500 reposts merely constitutes grounds for a slander conviction, not grounds for a conviction for inciting discord and stirring up trouble... If Yang is to be put into criminal detention and eventually convicted, it must be proved that 'serious disruption to public order was caused'," legal expert Liu Zixi writes in The Beijing News.
Beijing-based lawyer Mo Shaoping tells Hong Kong's South China Morning Post that the detention of Yang under the new online rules could deter other internet users from challenging officialdom and have "a negative impact on the freedom of expression".
'Regret' over Golden Rice
In other news, China's medical research sector is under fire after Tufts University in Massachusetts expressed "regret" over one of its researchers failing to fully inform villagers in Hengyang, central Hunan province, that "Golden Rice" fed to their children in experiments was genetically modified.
The study, which was jointly conducted in 2008 by a Chinese-born Tufts University-affiliated researcher and scientists from three Chinese state-run medical institutions, concluded that a single serving of "Golden Rice" could supply more than half of a child's daily vitamin A needs.
The children reportedly had no side effects from the GM rice, but three Chinese scientists were sacked and the children were compensated for potential health risks, the Global Times reported last year, when the matter came to light.
"Curiously enough, while Tufts said it 'regrets' the study's deviations from certain protocols, Chinese state media reported that the university had 'apologised' for the study," notes the South China Morning Post.
"More than a year after the case was exposed, this apology is long overdue. Only the establishment of a most stringent ethical review system can prevent this type of profit-driven behaviour in the name of science," Xinhua News Agency said yesterday.
"There is still a lot of sloppy management among relevant domestic sectors, otherwise this research that clearly violated regulations would not have been given a 'green light' all the way," writes commentator Zhang Tiankan in The Beijing News.
And finally, the Beijing Youth Daily has called on the media to track down evidence of officials resorting to online shopping, electronic payments and other "new tricks" to get round a ban on luxury moon cakes, a popular delicacy during Mid-Autumn Festival.
"All departments should take decisive measures to strictly investigate the new tricks of online gift shopping and electronic payments of public funds to buy gifts, completely tear off the 'invisible cloak' of using public funds to buy gifts, and thus bring more illegal transactions under broad daylight," it says.
Moon cakes, which are a traditional sweet delicacy exchanged as gifts during the Mid-Autumn Festival, are at the centre of the government's austerity drive.
However, the austerity ban has not stopped a trend of super-luxury moon cakes that are packaged with bird's nest, ginseng, high-grade tea and other expensive ingredients, says the China Youth Daily.
BBC Monitoring reports and analyses news from TV, radio, web and print media around the world. For more reports from BBC Monitoring, click here. You can follow BBC Monitoring on Twitter and Facebook.