Body of US stunt pilot recovered in China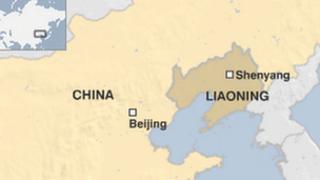 The body of an American stunt pilot whose aircraft crashed into a lake in China has been found after a three-day search, Chinese state media report.
Rescuers recovered the body of David Riggs from Caihu lake in Shenyang city, Liaoning province, on Friday.
A Chinese translator, also aboard the aircraft which crashed on Tuesday, was rescued but later died in hospital, Xinhua news agency says.
Officials say Mr Riggs was practising stunts for a local air show.
Teams from Sweden, France and Lithuania were also scheduled to perform at the show in Faku county, Xinhua says.
A well-known Hollywood stunt pilot, Mr Riggs had his pilot's license suspended on at least two occasions, says the Associated Press (AP) news agency.
A rescue official told AP it was likely that the pilot "was killed on impact", but they were still investigating the case.
He added it was raining when the aircraft took off.
The aircraft did not have a black box recorder, as it was too small, reports say.