China to execute parking-row toddler killer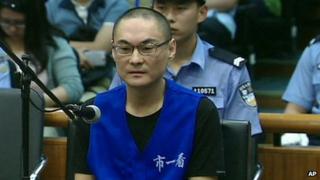 A court in China has sentenced a man to death for killing a two-year-old girl in Beijing over a parking space row, state media report.
Han Lei, 39, pulled the toddler out of her pram and threw her to the ground after her mother refused to make way for his car in July.
He fled the scene but was captured. The girl later died from her injuries.
He said the killing was unintentional, as he was drunk and had thought the pram was a shopping trolley.
"I did not know there was an infant inside," he previously said.
The case has provoked an outcry in China, with many people expressing their anger online, state media reported.
Many in China were shocked that an argument over a parking space could come to such a violent end, says the BBC's Martin Patience in Beijing.
The trial started on 16 September at the Beijing No 1 Intermediate People's Court.
Prosecutors had recommended the death sentence for Han, who committed the crime within a year of being released from prison, the Xinhua news agency said.
Han also beat the girl's mother during the altercation in Beijing's Daxing district.
Another man, Li Ming, who drove Han away from the scene, has been jailed for five years.