China court rejects killer's claim to additional murder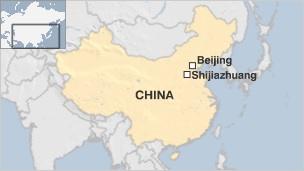 A Chinese court has rejected a convicted killer's claim that he was responsible for the rape and murder of a woman in 1994, Chinese media report.
Wang Shujin, who has been sentenced to death for raping three other women, murdering two of them, argued that he had also committed the 1994 crime.
Wang had appealed against his sentence, saying it should be reduced given his "confession" to the 1994 killing.
Another man was executed in 1995 after being found guilty of the 1994 crime.
A court gave Wang the death penalty in 2007. However, Wang appealed, on the basis that "prosecutors had not yet prosecuted him for the [additional] rape and murder that took place in [Hebei capital] Shijiazhuang" in 1994, state-run news agency Xinhua reported.
On Friday, the Hebei Provincial Higher People's Court upheld Wang's death sentence, and dismissed his claim that he conducted the 1994 killing.
Wang "used violent methods to rape three women... and killed two of them", the court wrote on its verified microblog. "His methods were ruthless, and the circumstances and consequences of his crimes were serious."
However, "prosecutors identified major discrepancies in Wang's testimony in relation to the Shijiazhuang rape and murder case", and the court supported the prosecutors argument that the 1994 case "was not the doing of Wang", the court added.
Courts in China often give lighter sentences to defendants who confess to crimes.
The unusual court appeal, which saw the prosecutors seeking to affirm Wang's innocence in relation to the 1994 crime, generated significant controversy and debate in China.
The subject "Wang Shujin case" was trending on Sina Weibo, one of China's Twitter-like microblogs, on Friday.
Many microblog users were worried that Nie Shubin, who was found guilty of the 1994 crime, had been wrongly executed.