Typhoon Fitow kills five in China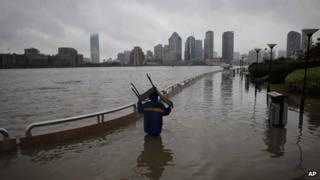 Powerful Typhoon Fitow has killed at least five people in China, with four others missing, local media report.
The tropical cyclone hit China's eastern coast early on Monday, with winds of up to 151km/h (93mph).
The storm flattened houses, flooded villages and farms, and affected more than 4.5m people, officials said.
It has caused economic losses of more than 21bn yuan ($3.4bn; £2.1bn), officials in Fujian and Zhejiang provinces said.
Two people died in Wenzhou, in Zhejiang province, state-run news agency Xinhua reported.
Three people in Ruian, also in Zhejiang, died from electric shocks, the agency added.
Rescue operations were underway, with footage on state television showing stranded residents being picked up by speed boats.
State media described shrimp farms and seaweed farms being damaged by the storm and powerful winds.
"We have basically lost everything this year," a seaweed farmer told reporters.
Typhoon Fitow - named after a flower - made landfall at 01:15 local time on Monday (17:15 GMT Sunday) in the city of Fuding, Chinese meteorologists said.
It triggered the evacuate of hundreds of thousands in Zhejiang and Fujian, and caused transport chaos as train, coach and flight services were cancelled.
It came just weeks after Typhoon Usagi killed at least 25 people in southern Guangdong province.