Chinese journalists to get on-the-job training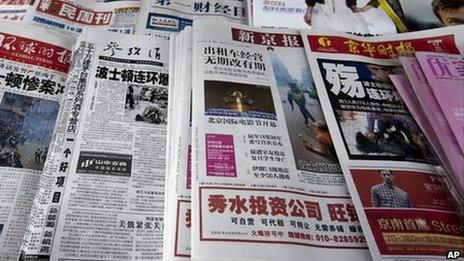 All reporters with Chinese media organisations are to receive on-the-job training to strengthen their "professional practices," according to state media.
About 250,000 journalists will undergo the training programme, Xinhua reports, which will last three months.
Topics include "theories on socialism with Chinese characteristics," and the Marxist view on journalism.
Chinese media outlets operate under tight Communist Party control.
Access to foreign news sources is restricted and internet news sites blocked.
The government employs more than two million people to monitor the internet, state media reported last week.
The training materials, including videos, have been designed by China's State General Administration of Press, Publication, Radio, Film and Television.
Journalists will also be required to pass an exam in 2014 in order to gain a press card, the administration said.