China's Nanjing Mayor Ji Jianye under investigation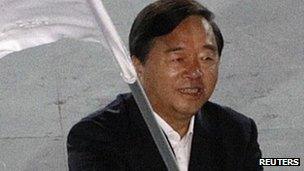 The mayor of China's eastern city of Nanjing is under investigation for corruption, state media say, amid an ongoing high-profile clean-up campaign.
Ji Jianye was being investigated for "suspected severe violations of disciplines and laws", a brief report from Xinhua news agency said.
Mr Ji appears to be one of the most senior targets of the campaign to date.
It was launched by President Xi Jinping after he took over as Communist Party chief in November 2012.
He warned that public anger over corruption threatened the survival of the party, and promised to pursue "tigers" - top-level officials - as well as "flies".
Several high-profile officials have been felled in recent months, including the former railways minister and a top economic planner.
A number of senior PetroChina executives are also under investigation.
Nanjing, the capital of Jiangsu province, is a major city home to about seven million people.
A report on Communist Party mouthpiece People's Daily said Mr Ji's case could involve about 20m yuan ($3.3m, £2m) in funds.
According to Xinhua, he has been mayor of Nanjing since January 2010 and is also deputy party secretary.