China media: Typhoon aid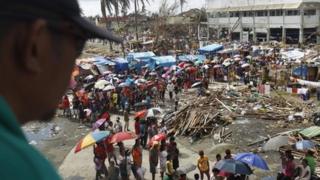 State media are defending China's aid amount to the Philippines in the wake of Typhoon Haiyan.
Beijing announced on Wednesday that it would send an extra 10m yuan (£1m; $1.64m) worth of relief supplies to the Philippines after coming under fire from foreign media for its initial donation of $100,000 on Monday.
Earlier this week many international media outlets, including Reuters and the UK's Financial Times, compared China's offering unfavourably with that of the US, Japan and other countries.
The Associated Press on Friday said Swedish furniture chain Ikea and US beverage giant Coca-Cola have donated more than the world's second-largest economy.
Some reports attribute the level of the Chinese offering to its territorial dispute with the Philippines. And the foreign media's negative reaction has put some state media on the defensive.
"Those China bashers must harbour ill intentions, aimed at either tarnishing China's image in the world arena or sowing further seeds of discord between China and the Philippines - as if the territorial dispute was not enough. Let's not forget that China was also hit by Haiyan," counters the China Daily.
The Ta Kung Pao, a Beijing-backed Hong Kong newspaper, instead accuses Philippine President Benigno Aquino of "shirking responsibility" for his country's "weak disaster relief" that has been exacerbated by "corruption".
"The people of Hong Kong had a taste of Aquino's despicable working style long ago. Since the [2010 Hong Kong tour bus] hostage incident, Aquino has refused to apologise... It now appears that President Aquino is even treating his own people with this attitude," it says.
However, the Global Times says China's assistance has not gone far enough and calls for the military to follow the US and Japan's moves to send armed forces and naval warships to assist in the disaster relief.
"If it is premature or even somewhat sensitive for China to send the 'Liaoning' aircraft carrier for disaster relief. All sides are more likely to accept the navy sending the 'Peace Ark' hospital ship, escorted by warships. US and Japanese public opinion will of course still hype up this matter, but such public opinion cannot bring harm to China," it says.
Earlier this week, the Global Times had said the Chinese government must overcome any public resistance to giving aid to the Philippines or risk harming its international image.
Tackling corruption
Turning to domestic news, the Wen Wei Po says the central authorities in Beijing will take more control over tackling widespread corruption in localities.
Under the existing system, local party anti-corruption watchdogs are under the leadership of local party committees at the same level as well as the party's central watchdog in Beijing, the Central Commission for Discipline Inspection (CCDI).
However, local watchdog officials are "often reluctant" to investigate other local officials of equal rank because they are usually nominated by these officials in the local party committees, the Global Times notes.
The CCDI will also extend the coverage of inspection tours from central departments to local governments, state-owned enterprises and public institutions on a local level.
In other news, the mainland media have given low-key coverage to Gambia reportedly ending its 18-year diplomatic relationship with Taiwan.
"Gambia and Taiwan will sever the so-called 'diplomatic relations' with immediate effect," Beijing's state-run China News Service quotes the Gambian presidential office as saying in a terse report.
The mainland and Taiwan split after a civil war in 1949 and Beijing rejects Taiwan's claims of sovereignty, including its right to maintain official relations with other countries.
BBC Monitoring reports and analyses news from TV, radio, web and print media around the world. For more reports from BBC Monitoring, click here. You can follow BBC Monitoring on Twitter and Facebook.