Chinese journalist Wang Qinglei denounces censorship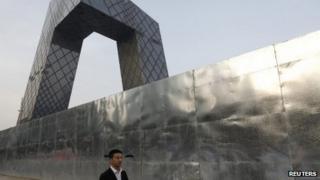 A Chinese journalist, recently sacked from state-run China Central Television (CCTV), has denounced government censorship in a blog post.
Wang Qinglei said that CCTV journalists receive up to 1,000 directives each year from propaganda officials.
CCTV recently sacked Mr Wang for violating its social media regulations.
He had publicly criticised CCTV's airing of Chinese-American businessman and blogger Charles Xue's apparent confession that he used prostitutes.
Mr Xue, a popular blogger known for his liberal views, was detained in August.
Shortly after Mr Xue's public confession, Mr Wang criticised CCTV's coverage of the case on his weibo blog, China's version of Twitter.
Describing it as "tabloid", "obscene" and "shameful", Mr Wang said media should not act as it were judge and jury. He believes this led to his dismissal.
His latest post, which was an image of a long article he had written, was quickly removed by censors. Many of his followers, however, were able to save the image and re-posted it on their own accounts.
Mr Wang said that in his 10 years with CCTV, he witnessed how the audience's opinion towards the broadcaster turned "from respect to disgust".
"We have brand new headquarters and new equipment. We have bureaux all over the world, but we have gradually lost our credibility and influence," he said.
He believes that "the system" is the root of the problem.
He said that CCTV news is subject to systematic censorship, and journalists were basically told that "everything you want to cover should not be covered".
Mr Wang said his former colleagues should ask themselves if they practice self-censorship.
"If too many news stories were left uncovered because we could not or would not, no one would believe the ones we do cover, because they would be propaganda," he said.
CCTV have not commented on his latest statement.