China's Zhang Ziyi wins sex claims case against Boxun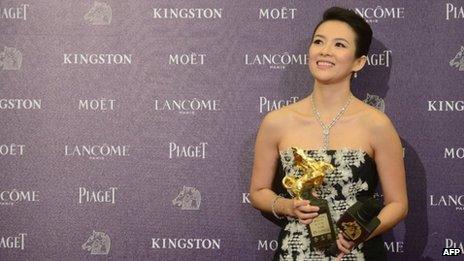 Chinese actress Zhang Ziyi has reached an undisclosed settlement with a US-based website which has apologised for false reports that she was paid to have sex with top Chinese officials.
The Crouching Tiger, Hidden Dragon star sued Boxun News for damaging her reputation and business interests.
Boxun retracted its story that she was paid $100m to sleep with officials, saying it should not have published it.
A court in the US said the parties had reached the settlement in a libel case.
Zhang shot to stardom after starring in Crouching Tiger, Hidden Dragon and has since gone on to appear in several high profile Hollywood movies, including Rush Hour 2 and Memoirs of a Geisha.
A short statement on her official Sina Weibo site said: "Nineteen months, and nearly 600 nights and days, is perhaps not very long for a scandal case, but it is long enough to destroy an innocent person's reputation."
It added that its anonymous sources "cannot support the information reported".
When the rumour first broke that Zhang Ziyi had been paid for sex with top Party officials, the story grabbed headlines around the world.
Last year she launched a legal action at the High Court in Hong Kong seeking unspecified libel damages from Next Media over stories in its publications Apple Daily and Next Magazine - and won.
Rumours about sex being traded for favours have long circulated in China.
The BBC Chinese service's Carol Yarwood says the allegations surrounding Zhang Ziyi have been all over the country's media for months.
It is also one of the hot topics on weibo sites, China's version of Twitter, our correspondent says. While many web users criticised Zhang, others sympathised with her.
One weibo user, bornin1968, wrote: "No way, I don't believe she has fallen so low."