Hong Kong kung fu film pioneer Run Run Shaw dies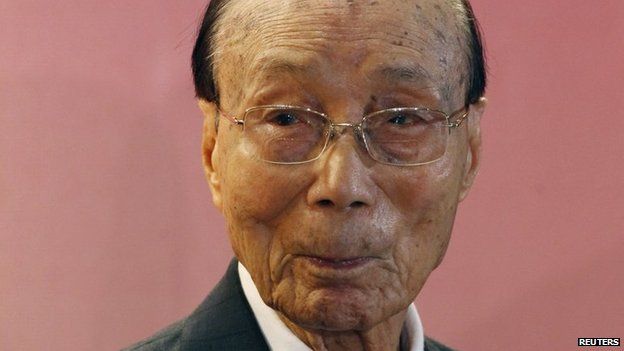 Entertainment mogul Run Run Shaw, a major figure in Asia's film industry, has died at the age of 107.
The Hong Kong resident founded Shaw Brothers Studios, which produced almost 1,000 films and brought the kung fu genre into the mainstream.
He also launched Hong Kong's biggest local TV station, TVB, in 1967 and remained its chairman until 2011.
Mr Shaw died peacefully at home in Hong Kong, TVB (Television Broadcasts Limited) said in a statement.
Hong Kong Chief Executive CY Leung described him as "an elder that we very much respect".
"Sir Run Run Shaw has for a long time promoted the entertainment industry in Hong Kong, his philanthropy also has spread from Hong Kong to China and beyond," he said.
In Hong Kong, Mr Shaw will be remembered for launching the careers of stars such as Chow Yun-fat and Maggie Cheung, says the BBC's Juliana Liu.
He also inspired Hollywood directors like Quentin Tarantino and Andrew and Lana Wachowski, our correspondent says.
Born in Shanghai, Run Run Shaw initially worked with his brothers to open cinemas across Singapore and Malaysia.
But he moved to Hong Kong in the 1950s and formed a production company, later opening the huge Movie Town studio which at its height churned out dozens of films each year.
These included the award-winning 1962 drama The Magnificent Concubine and the 1967 movie One-Armed Swordsman, which broke Hong Kong box office records and led to multiple sequels.
As competition grew, Run Run Shaw moved into US movie co-production, including the US classic Blade Runner.
He then switched focus to television, building TVB into a huge Chinese-language broadcaster.
"With his vision and energy, he had built the company to become Hong Kong's premier television station and a world leader in the Chinese-language television industry," the company said.
Mr Shaw, who was honoured by Queen Elizabeth II in 1974, was also a philanthropist and founder of the Shaw Prizes, which mark achievements in the sciences in Asia.