China police detain Uighur scholar Ilham Tohti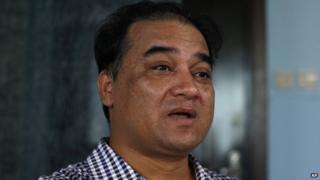 Police in China have detained a prominent and outspoken scholar of China's Uighur Muslim ethnic group, his wife says.
Ilham Tohti, 45, was taken from his Beijing home by several police officers on Wednesday. Computers and phones were also seized, his wife said.
A foreign ministry spokesman said he was suspected of breaking the law.
The Muslim Uighur group mostly live in Xinjiang, in China's far west. There are sporadic clashes in the region.
The government traditionally blames extremists for the violence. Uighur activists, on the other hand, point to ethnic tensions and tight Chinese control as triggers for violence.
Vocal critic
Mr Tohti's wife, Guzaili Nu'er, told the Associated Press news agency that police officers refused to answer questions about where her husband had been taken.
"This time it's different; they sent so many security officers, including police from Xinjiang, Beijing and the nearby police station," she said. "This time it is more serious."
Foreign Ministry spokesman Hong Lei said the scholar had been "criminally detained" and was suspected of "committing crimes and violating the law".
Ilham Tohti, an economist at a university in Beijing, is known to be critical of China's ethnic policies.
He had recently expressed fears on his website about increased pressure on Uighurs following last October's deadly attack in Beijing's Tiananmen Square.
A car crashed through a crowd and burst into flames, killing five people. Beijing authorities have blamed the incident on Uighur separatists.
A number of Mr Tohti's students were also questioned by the authorities, the Associated Press reported.
China has restricted Mr Tohti's movements on several occasions since deadly ethnic rioting in Xinjiang's capital, Urumqi, in 2009 that left about 200 people dead.