China kills Xinjiang 'attackers' in Wushi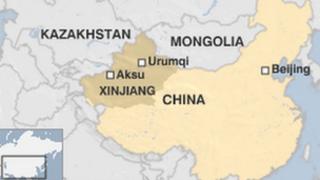 Chinese authorities have shot dead eight people trying to attack police officers in Xinjiang, officials say.
Three more were killed by their own explosive devices when they attacked a patrol near a park in the county of Wushi, Xinhua news agency said.
Officials labelled the attackers as "terrorists", a term they often use for Muslim Uighurs involved in unrest.
China claims to be battling Muslim separatists, but exiled Uighur groups accuse Beijing of repression.
Verifying reports from the region is difficult because the information flow out of Xinjiang is tightly controlled.
Authorities traditionally blame extremists for outbreaks of violence, while Uighur activists point to tight Chinese control as a cause of tensions.
Two civilians and two police officers were injured in Friday's incident in Aksu prefecture, west of Xinjiang's capital Urumqi, Xinhua reported, and one suspect was arrested.
The authorities say the attackers were armed with explosive devices and knives, and were riding motorbikes and cars.
They did not give the ethnicity of the attackers.
A spokesman for the German-based Uighur activist group, the World Uighur Congress, dismissed the official account.
"The so-called terrorism is China's political excuse of directly shooting dead those who take a stand," Dilxat Raxit said.
"The cause of the Uighur struggle is China's armed forces' use of violent raids and provocations," he said.
"No-one can continue to bear China's provocations and its systematic police of repression."