China media: Modernising the system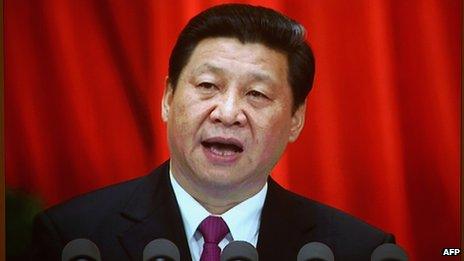 Modernising the system of governance, a potential meeting between the leaders of China and Taiwan, and anti-mainland protests in Hong Kong make headlines on Tuesday.
Papers give prominent coverage to President Xi Jinping's remarks that officials must modernise government and rule in a "scientific, democratic and legal manner".
Mr Xi made the comments at a workshop held at the Communist Party of China (CPC) Central Committee Party School that was attended by leading regional and central government officials, the Xinhua news agency reports.
He also urged those present to have "confidence in the current system" but not "fear reform".
A commentary in Hong Kong's pro-Beijing Ta Kung Pao daily predicts that "modernisation of governance" will become a key phrase in Chinese society.
Meanwhile, media continue to speculate on a potential meeting between China's President Xi Jinping and his counterpart Ma Ying-jeou from Taiwan.
This comes as Lien Chan, honorary chairman of Taiwan's ruling Kuomintang Party, makes a four-day visit to China.
Mr Lien, who is a former vice-president of Taiwan, will see Mr Xi on Tuesday and media are expecting that he will bring up the topic of a meeting with Mr Ma.
The Taiwanese president had previously suggested talking to Mr Xi on the sidelines of the Apec meeting later this year, but the Chinese side rejected the offer, saying it would not hold negotiations with Taiwan during an international conference.
Wang Hailiang, a researcher at the Taiwan Research Institute, also thinks that Mr Lien is likely to push for an earlier Xi-Ma meeting in Beijing.
"Both sides are exploring ways to make this happen. They still have some time before this fall," he tells China Daily.
The Haiwai Net, a People's Daily news portal for overseas readers, quotes Mr Lien's spokesperson as saying that the meeting with Mr Xi will delve into "deeper discussions" than touched upon in their previous encounter last year.
An anti-mainland protest in a Hong Kong shopping district has also caught the attention of Chinese papers.
According to reports in various Hong Kong media, between 100-200 activists staged a protest march on Sunday in Tsim Sha Tsui, a busy shopping area lined with luxurious boutiques frequented by Chinese tourists, demanding a curb to the number of mainland visitors to Hong Kong.
Reports say protesters were hurling slurs at mainland tourists, which forced some shops to shut down temporarily.
The Hong Kong government has condemned the protests, saying they tarnished the image of the territory. The authorities added that police would arrest demonstrators who humiliate mainland tourists, according to Hong Kong-based daily The Standard.
Tensions have been simmering between Hong Kong residents and mainlanders in recent years over a massive influx of mainland visitors, which has had an impact on the daily lives of local people.
In a harshly-worded editorial, the Global Times Chinese edition criticises the protestors and calls for those who have "violated the dignity of the mainland tourists" to be punished.
"We believe that those who insulted the mainland visitors by calling them 'locusts' are a minority in Hong Kong, and that is why the people from the mainland have exercised restraint when provoked," says the paper.
It adds, however, that while the "mainland needs to make an effort [for the idea of 'One country, Two systems' to work well], Hong Kong society also needs to share the responsibility and not allow this minority to act recklessly".
And finally, a bogus medical institute has raked in nearly 10 million yuan ($1.6 million; £1 million) by selling fake awards.
State-run China Central Television (CCTV) has found out that the Chinese Hospital Management Association, which claims to be a subordinate of the country's health authority, is in fact a fake organisation that has sold 321 awards and titles to numerous medical institutions this year alone, the China Daily reports.
Prices varied for different titles, among which were "Publicly Approved Hospital" and "Model Hospital".
This "fake awards mill" also offered tailor-made titles for clients, says the daily.
BBC Monitoring reports and analyses news from TV, radio, web and print media around the world. For more reports from BBC Monitoring, click here. You can follow BBC Monitoring on Twitter and Facebook.
Related Internet Links
The BBC is not responsible for the content of external sites.