Hong Kong: Ex-Ming Pao editor Kevin Lau attacked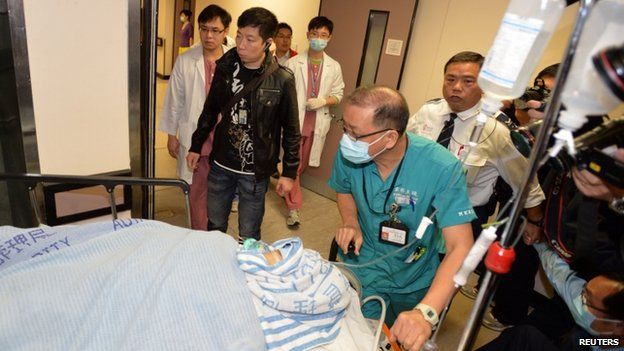 The former chief editor of prominent Hong Kong newspaper Ming Pao is in a critical condition after being attacked with a cleaver, officials say.
Kevin Lau was attacked in Hong Kong by two men on Wednesday morning, police said. He suffered three wounds.
The attackers reportedly fled by motorbike.
Mr Lau was recently replaced by a Malaysian editor viewed as pro-Beijing, sparking fears among staff that the paper's independence was under threat.
Ming Pao is a popular, credible Chinese-language newspaper, the BBC's Juliana Liu in Hong Kong reports.
Mr Lau's colleagues called the move to replace him an attempt to muzzle independent-thinking journalists, our correspondent adds.
Police are searching for two men in connection with the attack.
"One of them alighted from the motorcycle and used a chopper to attack the victim," police spokesman Simon Kwan told reporters.
"He suffered three wounds, one in his back and two in his legs," Mr Kwan said, adding that the back wound was deep.
In a statement, Ming Pao said it "strongly condemned the savage act".
It added: "We are deeply angry that the assailants dared to conduct an attack in broad daylight."
Hong Kong Chief Executive CY Leung said he was "extremely concerned" and "outraged" by the attack.
"Hong Kong is a society ruled by law, and we will not allow this kind of violence," he said, adding that the police would conduct a full investigation.
"The growing number of attacks against members of the press in Hong Kong needs to be taken seriously by the local administration," the FCC said in a statement.
"Hong Kong's reputation as a free and international city will suffer if such crimes go unsolved and unpunished," it added.
Since being replaced, Mr Lau has been working in an online subsidiary of Ming Pao's parent company.
On Sunday, thousands in the city marched on the streets calling for press freedom.