Hong Kong jails man for blackmailing Transformers crew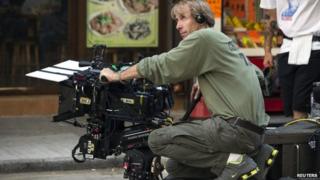 A man has been jailed for attempting to blackmail the Transformers 4 film crew while they were shooting in Hong Kong.
A Hong Kong court sentenced Mak Chi-shing to two years in jail. His brother was jailed for six weeks for assaulting a police officer.
The men ran a shop near where the crew were filming in October. They refused to close the shop and Mr Mak demanded $13,000 (£8,000) from the crew.
A scuffle then broke out, and film director Michael Bay was injured.
The court heard that the film crew had approached Mak Chi-shing, and his older brother Mak Chi-hang, on 16 October, offering $130 (£80) as compensation for filming on the road where they worked.
However, the next day, the brothers played loud music and attempted to disrupt the filming.
Mak Chi-shing demanded $13,000 from the crew, and a scuffle broke out. The two brothers were then arrested by police.
Mr Bay received injuries to the right side of his face, but declined to seek treatment and continued filming.
On Wednesday, Hong Kong's District Court found Mak Chi-shing guilty of blackmail, and also of assaulting a police officer.
Mak Chi-hang was also found guilty of assaulting a police officer.
Judge Josiah Lam said the case had "affected the reputation of Hong Kong as an international city".
"[The negative publicity] could affect foreigners deciding whether to travel to or work in Hong Kong," he said.
The fourth instalment of the Transformers franchise starring Mark Wahlberg and Nicola Peltz is scheduled for public release in June 2014.