Outgoing US envoy Gary Locke in China rights call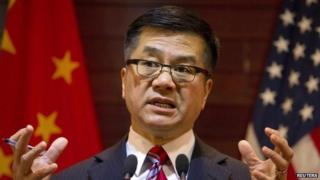 Outgoing US Ambassador to China Gary Locke has urged Beijing to improve its human rights record and work with Japan to ease tensions in the East China Sea.
In his last speech as ambassador, Mr Locke expressed concern at the recent rise in arrests of journalists and activists engaged in peaceful protest.
He also said that both China and Japan should avoid actions that would be seen as provocative over disputed islands.
Mr Locke, 63, is the first Chinese-American to serve in the position.
He departs on Saturday after gaining a reputation for his modest style and apparent humility.
His term has been marked by a series of delicate diplomatic incidents between the US and China, including a row over blind activist Chen Guangcheng.
It was also during his term that Wang Lijun, the former police chief who would spark the downfall of top Chinese politician Bo Xilai, sought refuge at a US consulate in south-west China in February 2012.
Mr Locke said that there had been progress in the quality of life and standard of living in China.
"But human rights is more than economic prosperity and the economic conditions of people, but also fundamental universal rights - freedom of speech, freedom of assembly, the ability to practise one's own religion.
"We're very concerned about a recent increase in arrests of activists and journalists... and we very much are concerned about the arrests and detentions of people who are engaged in peaceful advocacy," he said.
He added that Washington was "very concerned" about the case of Ilham Tohti, a scholar of an Uighur Muslim ethnic group recently arrested on a separatism charge.
In his speech, Mr Locke also asked for China and Japan to "lower the temperature and focus on diplomacy" over islands called Senkaku in Japan and Diaoyu in China.
There has been rising rhetoric between the two countries recently over the Japanese-controlled islands, which both countries claim.
"The last thing we need is some unintended incident that leads to unintended consequences, very severe consequences," he said, adding that the US is taking no sides in the issue.
Meanwhile, a spokeswoman from China's Foreign Ministry said that Chinese citizens enjoy "unprecedented rights and liberty".
"We strongly oppose irresponsible comments made by anybody, regardless of which country he comes from," Hua Chunying said.
The son of two Chinese immigrants to the US, Mr Locke formerly served as commerce secretary before becoming ambassador to China in August 2011.
US Senator Max Baucus has been appointed to replace Mr Locke.