China media: Military spending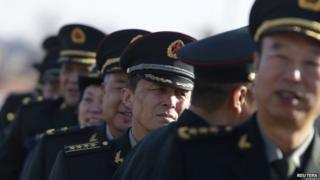 Chinese media report on military spending, relations with Japan and financial reforms as the annual parliament session opens in Beijing.
The Chinese People's Political Consultative Conference (CPPCC), the top political advisory body, started its session on Monday, while the National People's Congress (NPC), China's legislature, opened its meeting on Wednesday.
Local media outlets are reporting that Fu Ying, spokeswoman for the second session of the 12th NPC, refuted reported fears over "China's threat" and reiterated that Beijing's military policy was defensive in nature.
When asked by a US journalist about China's military spending during a press conference on Tuesday, Ms Fu replied with a question: "If China's defence is weak, will that mean there will be peace?"
Ms Fu's response has been widely quoted in the media. A commentary in Hong Kong-based pro-Beijing Ta Kung Pao praises and supports Ms Fu's response.
"The US annual defence report is always concerned about China's military spending, and Japan will also act accordingly to play up the China threat. So by asking the question, she is in fact rebuking the anti-China rhetoric of the hawkish views in the US," it says.
Zhong Zhenming, an international relations scholar at Tongji University in Shanghai, tells China Daily that China's increased military strength is partly in response to provocative moves taken by some countries, and adds that these countries should review their own polices first.
Media are also asking if a China-Japan war is a real possibility, amid a territorial dispute over East China Sea islands called Senkaku in Japan and Diaoyu in China.
In a media interview, Cheng Yonghua, China's ambassador to Japan, said current Sino-Japan relations were at the "most severe point" but that China would "get ready" for war if it was provoked.
"China will not stir up trouble or settle problems by means of war, we will insist on using peaceful dialogue as solutions, but at the same time we are also getting ourselves prepared," the Beijing Times quotes him as saying.
Organ donation
Elsewhere, Huang Jiefu, a member of the CPPCC, has revealed that a total of 38 organ transplant centres in regions including Guangzhou and Beijing have stopped harvesting prisoner's organs.
Speaking to the media, Mr Huang says China's organ transplant programme has moved away from "reliance on death row inmates" as the number of organ donations from ordinary people has "far exceeded those from the inmates".
"Prisoners on death row are citizens of the country, they have the right to donate their organs, most importantly, they and their family have to give consent to do so," Southern Metropolis Daily quotes the former vice health minister as saying.
Staying with the ongoing CPPCC and NPC sessions, media give prominent coverage to the announcement made by the Central Bank chief, Zhou Xiaochuan, that there will be no crackdown on China's fast-growing internet finance sector, though the government will strengthen supervision.
Local media report that the authorities may take regulatory action against popular but controversial online fund investment platforms as the lawmakers are expected to discuss the issue.
These online platforms provide customers with a way to invest their money on funds which would give higher returns than ordinary bank deposits, but financial experts have often warned about the risks.
Beijing Youth Daily says that Mr Zhou's remarks are a relief for millions of customers of such investment platforms.
It adds that this shows the authorities' determination to liberalise the setting of interest rates. At present, the bank deposit rates are set by government orders.
And finally, two teenagers reportedly used pepper spray at a metro station in Guangzhou, southern China, causing a stampede.
According to media reports, four passengers were slightly injured, while the two boys ran away after creating the commotion.
BBC Monitoring reports and analyses news from TV, radio, web and print media around the world. For more reports from BBC Monitoring, click here. You can follow BBC Monitoring on Twitter and Facebook.