China media: 'Rise of Russia'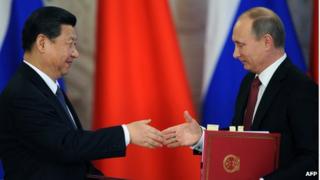 Media are assessing how Russia's clash with the West over Ukraine could impact on relations with China.
The Chinese edition of the Global Times asks if "the rise of Russia" is a threat to Beijing.
"Some people are worried that Russia might become 'unreasonable' after its victory in Crimea and Beijing will find it difficult to deal with Moscow in the future," says the daily.
However, in its editorial, the paper also points that Russia could not endanger China, as "the main strategic pressure comes from US-led Western powers".
"This ubiquitous uncertainty is the main issue facing China in the 21st Century and it is more worrying than the uncertainty between Beijing and Moscow… China hopes for a multi-polar world, which a relatively powerful Russia could help achieve," writes the Global Times.
Echoing a similar sentiment, political scientist Wang Yiwei writes in Haiwai Net that although the stand-off between Russia and the West could slow down global economic recovery, China could only benefit from the confrontation.
"The revival of Russia will help relieve China's strategic pressure. US energy and economic sanctions against Russia will be a favourable factor in speeding up negotiations with Moscow on energy co-operation and building a strategic partnership," he argues.
Phoenix TV, a Hong Kong-based pro-Beijing TV station, is surprised that the Russian President Vladimir Putin "thanked China for its support" during his speech in Moscow on Tuesday in which he defended Moscow's annexation of Crimea.
"China did not do anything; it just abstained" from voting against Russia in the United nations Security Council, the TV recalls. "This shows that Mr Putin is very isolated and feels compelled to tell the West that he has Chinese support," the channel points out in a commentary.
It adds, however, that "this appreciation is rather uncomfortable for China… as Beijing is very cautious not to be seen supporting separatism".
Michelle Obama
Meanwhile, China-US relations, along with the dress sense of the US first lady, are grabbing media headlines as Michelle Obama starts a week-long visit to China.
She will be greeted by Peng Liyuan, the wife of Chinese President Xi Jinping, who will accompany her for part of her stay in the country.
Ni Feng from the Chinese Academy of Social Sciences tells China Daily that the interaction between the two women "diversifies the style of leadership contacts between Beijing and Washington", and could prove crucial in "maintaining stable bilateral ties and resolving disagreements".
The People's Daily overseas edition notes that Mrs Obama had made the effort to learn to speak Chinese and acquaint herself with the country's culture.
It also thinks that "first lady diplomacy" can promote "understanding among the people of both countries".
Commenting on Mrs Obama's dress sense, an article in Xinhua news agency notes that she "likes bright colours" and has "changed the way a first lady should dress".
And finally, the press is calling for more transparency in the way schools are run and better protection for children after two former top managers at a sports school were accused of sexually abusing students.
The Xinhua news agency thinks there has been a "cover up" of the scandal and that this puts the students at risk. It calls for a change in the "culture of 'total submission' in sports schools".
BBC Monitoring reports and analyses news from TV, radio, web and print media around the world. For more reports from BBC Monitoring, click here. You can follow BBC Monitoring on Twitter and Facebook.