China media: Taiwan trade deal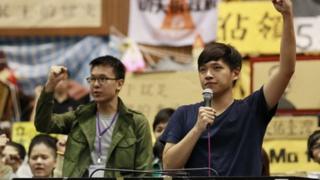 The end of a three-week long protest in Taiwan over a cross-straits trade deal and China-US relations are the main themes in Tuesday's papers.
Students who have been occupying Taiwan's parliament since the middle of March say they will end their protest on Thursday.
The students agreed to leave after Speaker Wang Jin-pyng told them he would not preside over any debate on the bill - which was signed in June 2013 but has not yet been ratified by MPs - until legislation was in place that covered oversight of all deals with China.
The protesters say the Cross-Strait Service Trade Agreement, which would allow the two sides to invest more freely in each other's services markets, would hurt Taiwan's economy and leave it vulnerable to pressure from Beijing.
Most media outlets give prominent coverage to the news. The China News Service notes that "all sectors (government officials, political parties and business leaders) are happy to see that the students are ending the protests".
Experts in China say the proposed agreement "benefits" Taiwan's economy more than the mainland.
"It is very obvious that the mainland has given Taiwan more benefits, if the agreement does not go through, it will hurt Taiwan's economy and not the mainland," Wang Jianmin, researcher on cross-straits affairs from the Chinese Academy of Social Sciences, is quoted on Haiwai net as saying.
"The international reputation of Taiwan's economy will be greatly damaged… if an agreement is rejected because of political considerations. Who will still dare to ink any economic co-operation agreement with Taiwan? This will create a psychological hurdle to other countries," he adds.
Echoing similar sentiments, an article in the China Taiwan Net, an official news website, warns that Taiwan's economy will be marginalised by opposing the "big whale" (mainland) to pursue "the happiness of being small".
Hagel's visit
Meanwhile, media are also analysing China-US military relations after US Defence Secretary Chuck Hagel toured the Liaoning, China's first aircraft carrier.
Mr Hagel, who arrived in the port of Qingdao from Japan, is on a three-day visit and is thought to be the first senior Western official to board the vessel.
Commenting on the visit, Jin Canrong, an expert on international affairs from Renmin University, tells the Beijing Times that China allowed Mr Hagel on the vessel despite his "tough words" against Beijing in Japan.
In Tokyo, Mr Hagel commented on regional territorial disputes, saying Chinese authorities should have "respect for their neighbours".
"This shows that China will not change its strategic direction just because of some remarks, and it (vessel visit) also reflects that the Beijing-Washington military relationship is moving forward… We have shown you (the US) our treasure, what you do next is up to you," Mr Jin says.
Describing Mr Hagel's remarks as "insensitive", the China Daily asks the US not to "underestimate China's resolve to defend the integrity of its territory".
"China has shown its openness by inviting the US defence secretary to tour China's aircraft carrier, the Liaoning. Hagel's face-to-face talk with his Chinese counterpart should help him know more about China's stand," it adds.
Media competition
Turning to local news, the Xinjiang Daily has published an official document detailing various "suggestions" on how to "reform" Xinjiang.
The seventy-five points stated in the document, which was passed by the standing committee of Xinjiang Uighur Autonomous Region on 22 February, include suggestions such as deepening economic, market and judicial reforms in Xinjiang.
It also stresses the need to "maintain high pressure" when tackling terrorism and preventing "mass incidents" (protests) from taking place.
Beijing authorities often blame violent incidents in Xinjiang on Uighur extremists seeking autonomy for the region. Uighur activists, meanwhile, accuse Beijing of over-exaggerating the threat to justify heavy-handed rule.
And finally, some media outlets are discussing the quality of reporting on the missing Malaysia Airlines plane incident, while criticising the West for "not allowing Chinese media to express themselves".
An article by state-run media Xinhua News Agency, which has been reprinted in various media outlets, points out that the competition between the national and foreign media "reflects the competition of overall national strength" as it notes that some international aviation institutions have turned down interview requests from Chinese papers and TV channels.
"Only permitting the Western media to have exclusive news, but not allowing Chinese media to voice out. This provides some food for thought in the Malaysia Airlines MH370 incident," it says.
BBC Monitoring reports and analyses news from TV, radio, web and print media around the world. For more reports from BBC Monitoring, click here. You can follow BBC Monitoring on Twitter and Facebook.