China sacks former security chief Zhou Yongkang's associate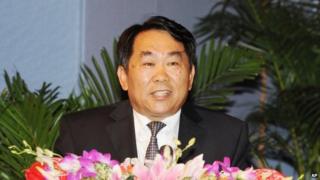 Chinese authorities have sacked another associate of Zhou Yongkang, in the latest apparent move targeting the powerful former security chief.
The Communist Party's anti-corruption watchdog said that Guo Yongxiang, a former vice-governor of Sichuan province, had been expelled from the party and removed from office.
A statement said Mr Guo had taken bribes and was "morally corrupt".
The move comes amid speculation that Mr Zhou is being investigated.
Mr Zhou was the party secretary in Sichuan province before becoming head of China's Public Security Ministry in 2003.
A highly influential figure, he was a member of China's top-most decision-making body, the politburo Standing Committee, and was seen as a mentor to now disgraced former high-flier Bo Xilai.
In recent months, several top officials from Sichuan province linked to Mr Zhou have come under scrutiny.
Zhou Yongkang's close aides under investigation



Ji Wenlin
Vice governor of Hainan; Zhou's secretary when he was Minister of Land and Resources and of Public Security.

Guo Yongxiang
Chairman of the Sichuan Cultural Association; Zhou's secretary when he was Sichuan party boss; expelled from the party.

Li Hualin
Deputy General Manager of CNPC; was Zhou's secretary when he was the deputy general manager of CNPC 1988-92.
Ji Wenlin - REUTERS
There has been no official confirmation that any investigation into him is under way, however, despite persistent rumours.
The investigation into Mr Guo, who worked under Mr Zhou in Sichuan province, was announced in June last year.
According to a Xinhua news agency report citing the anti-graft watchdog, Mr Guo had "seriously violated laws and party disciplines, and he is also suspected of the crime of bribe taking".