China upholds sentence of rights activist Xu Zhiyong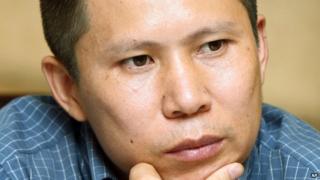 A high court in China has upheld the four-year jail term given to prominent rights activist Xu Zhiyong.
Mr Xu, the founder of a transparency movement, had appealed against a lower court's decision to jail him for "gathering crowds to disrupt public order".
Several other activists from the New Citizens' Movement have also been tried this year on similar charges.
The group has campaigned for government officials to disclose their assets.
On Tuesday, activists Ding Jiaxi and Li Wei also went on trial. They were due to go on trial in January but dismissed their lawyers, delaying proceedings.
Mr Xu, who was arrested in July 2013, was convicted in January.
"This absurd judgment cannot halt the tide of human progress," Mr Xu was said to have told the court, his lawyer, Zhang Qingang, told AFP news agency.
When asked about Mr Xu's case, China's foreign ministry spokesman Hong Lei said during a regular press briefing: "China is a country with rule of law and all are equal before the law."
"The relevant ruling was made in accordance with the law by Chinese judicial authorities," he added.
As well as campaigning for officials to reveal their wealth, Mr Xu has acted on behalf of inmates on death row and families affected by tainted baby milk formula.
In 2009 he was arrested on tax evasion charges that were eventually dropped after a public outcry.
Rights groups have criticised President Xi Jinping, who has pledged to fight corruption, over the cases of the activists.
London-based Amnesty International said Mr Xu's conviction was a "mockery of justice".
"Xu Zhiyong is a prisoner of conscience and he should be released immediately and unconditionally," China researcher William Nee said in a statement.
"The authorities must end this merciless persecution of all those associated with the New Citizens' Movement."
The US and the European Union have also condemned the sentence against Mr Xu.