Chinese blogger Charles Xue gets bail after illness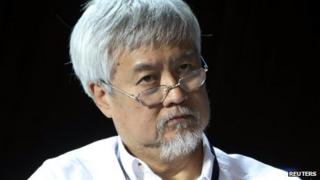 One of China's most influential bloggers, Charles Xue, has been granted bail after months of detention because of a "serious illness", officials say.
With 12 million followers, he was one of an elite band of micro-bloggers.
After his arrest amid an internet crackdown last year, he appeared on state television to apologise for "irresponsible posts" online.
His release comes as another blogger became the first to be sentenced for spreading rumours online.
Qin Zhihui was found guilty of "slander" and "picking quarrels and provoking troubles", state media report.
Known online as Qin Huohuo, the blogger was jailed for three years for posting tweets deemed libellous that were shared thousands of times.
Both men were among China's so-called Big V bloggers - the V standing for verified user - whose postings on Twitter-like websites such as Sina Weibo are avidly read by millions of followers.
Public opinion battle
Mr Xue, a venture capitalist who is also a US citizen, was originally arrested last August for soliciting prostitutes, allegations that prompted his supporters to accuse police of a set-up.
His public confession on state television came weeks later when he admitted to spreading irresponsible posts online and believing himself above the law.
He was granted bail on 16 April on the grounds of his illness and as authorities decided "he no longer posed a danger to the public".
Critics argue that Mr Xue's arrest was part of a push by the Chinese government to rein in the country's most influential bloggers.
Correspondents say that China's internet has become an often boisterous and unruly forum for public opinion and this has posed a challenge to the Communist Party.
Under new rules introduced last September, internet users who make defamatory comments which are visited by 5,000 users or reposted more than 500 times could face up to three years in prison.
These rules and the targeting of high-profile bloggers, analysts say, act as a warning for others to toe the line.