China media: Japan tensions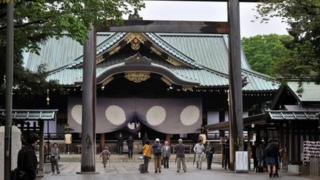 Beijing-Tokyo tensions are back in the spotlight as media lash out at Japanese officials' visits and offerings to a controversial shrine.
Japan's Prime Minister Shinzo Abe sent a traditional offering to the Yasukuni Shrine to mark the annual spring festival on Monday.
The shrine honours Japan's 2.5 million war dead, including convicted war criminals. But Beijing sees it as a symbol of Tokyo's aggression during World War Two, when Japan occupied large parts of China and the Korean peninsula.
Mr Abe's offering comes after Japanese minister Keiji Furuya visited the shrine on Sunday.
An article in the Liberation Army Daily notes that this is the second time this month that a cabinet minister has visited the shrine.
"This once again proves that the Abe regime is walking down further and further on its right-winged path, and its motive is a cause for alarm for the whole world," it says.
The People's Daily reports that Mr Abe described China as being "irresponsible" in an interview with a US TV channel, ahead of US President Barack Obama's Asia visit.
Mr Abe reportedly accused China of creating "instability in the region by expanding its defence budget".
"In reality, Japan is preparing its military expansion and criticising China's defence budget at the same time," the paper says.
"It is ironic that a troublemaking Japan urges a responsible China to act responsibly," the China Daily hit back at Mr Abe's remarks.
The daily notes that Mr Abe's "verbal campaign against China" comes a week before Mr Obama's Asia trip, and describes him as "playing dog-and-whistle politics with its ally".
"What is more disappointing is that his attempts to muddy the water seem to be working to some extent, as some senior US officials, including Defence Secretary Chuck Hagel, have harshly criticised Beijing rather than Tokyo for the rising tensions," it adds.
Nuclear plants
Meanwhile, Premier Li Keqiang has announced that China will construct new nuclear power plants equipped with "state-of-the-art safety measures" on the eastern coast "at a proper time".
Mr Li made this announcement at a meeting of the National Energy Commission on Sunday.
According to local media reports, the planned construction of new power plants is aimed at achieving development goals with cleaner energy.
Experts tell the National Business Daily that energy consumption is higher in the more-advanced eastern coastal region and it needs more power plants.
Liu Qiang, new energy expert from the Chinese Academy of Social Sciences, is confident that China has the ability to maintain international safety standards at these plants.
"There is a limit on coal resources and there is no other replacement... and this is the best time to develop greener energy," Jiang Kejun, a researcher from the Energy Research Institute of National Development and Reform Commission, tells the daily.
And finally, media give mixed reactions to a mass conflict in Cangnan County, Wenzhou city, in eastern Zhejiang Province, that took place on Saturday.
According to the Zhejiang News, a fight broke out between five urban administrative inspectors and a passerby after he refused to refrain from photographing them.
An angry crowd gathered after the passerby was rumoured to be dead. The furious masses surrounded the officers, beating them up and leaving two of them seriously injured.
The urban administrative inspectors, or Chengguan, who have powers to remove street vendors, are generally seen by the public as "bullies", according to reports.
Condemning the crowd and describing them as a "humiliation to the whole society", the Global Times Chinese edition defends the inspectors and asks the public to have "more understanding" towards them and their work.
However, the Beijing News urges the authorities to be fair in their assessment and to get to the "root cause".
"If the local governments solely blame the cause of such incidents on rumours, they are just running away from the real problems. If they do not seek to understand the psychology behind the conflicts and to change the negative image of these inspectors, such incidents are bound to happen again," it says.
BBC Monitoring reports and analyses news from TV, radio, web and print media around the world. For more reports from BBC Monitoring, click here. You can follow BBC Monitoring on Twitter and Facebook.