China media: North Korea nuclear issue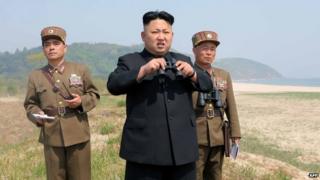 North Korea's nuclear issue and amendments to China's pollution law are the main themes in Friday's papers.
Papers analyse China's role in the North Korean nuclear crisis as US President Barack Obama heads to Seoul after wrapping up his visit to Japan.
Mr Obama's South Korea visit comes amid concerns that North Korea may be planning a fourth nuclear test.
While in Japan, Mr Obama called the North Korean problem "the most destabilising, dangerous situation in all of the Asia-Pacific region", and described China's role in influencing Pyongyang as "critically important".
"Can the US resolve the North Korean problem without China? Apparently not," says the Nanfang Weekend.
It adds that the US will tread carefully on regional territorial disputes because it needs Beijing's help to rein in North Korea.
"The US has to involve Beijing in the Korean Peninsula issue and in other areas too, so it has to play a balancing act between China and Washington's allies," it adds.
However, Jin Qiangyi, director of the Asia Studies Centre at Yanbian University, says he is not too optimistic about Beijing's influence on Pyongyang.
"China is currently in a dilemma in dealing with North Korea," the Global Times quotes him as saying.
Mr Jin adds that China has limited influence on North Korea and there are fears that the communist country may collapse under pressure.
The Liberation Daily blames Washington for rising tensions on the Korean Peninsula.
"The US has pursued its East Asia strategy with its Cold War mentality. Washington has taken several measures to strengthen its alliance with South Korea and Japan. These actions would not ease the tension between Washington and Pyongyang," it adds.
Environment protection
Meanwhile, China has imposed tougher penalties on polluters with a newly-amended law.
The country has amended its environment protection law after 25 years amid the government's "war" on pollution.
According to Xinhua News Agency, the revised law imposes "harsher punishments (for) environmental wrongdoing, and has specific articles and provisions on tackling smog, making citizens more aware of environmental protection and protecting whistleblowers".
China has faced serious environmental problems in the recent past with several of its cities and towns touching alarming levels of pollution.
An article in the People's Daily praises the amendment, which will come into effect from 1 January next year, as "a new milestone".
"The law comes into effect only after eight months. All state departments, particularly environmental units, should start working on the details to build a clear and standardised law-enforcement system," it urges.
The Beijing Youth Daily says "it is a tough law with harsh penalties, but great determination and an iron-fist approach is needed to enforce it".
BBC Monitoring reports and analyses news from TV, radio, web and print media around the world. For more reports from BBC Monitoring, click here. You can follow BBC Monitoring on Twitter and Facebook.