Are Indonesian maids safe in Hong Kong?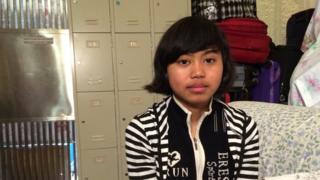 Like millions of poor but ambitious young women before her, Rohyati, 26, travelled to Hong Kong to work as a domestic helper.
The daughter of rice farmers from Java, Indonesia, she had previously worked for two years in Singapore.
But when her father died, leaving her to provide for her three younger siblings, she decided to try her luck in China's international financial capital.
Hong Kong is traditionally a sought-after destination for domestic workers because of the relatively high wages offered, a guaranteed rest day once a week and other legal protections not offered in other places.
But, says Rohyati, just two weeks into her job as a full-time, live-in maid, her employer's mother slapped her because the elderly woman, who spoke only Cantonese, was frustrated at being unable to communicate.
Over the next two months, she says she was slapped, punched and choked by her boss as well.
"I don't know why she hit me. At times she seemed to care about my welfare. She would ask if I was comfortable or had enough to eat," said Rohyati.
"But she would suddenly turn violent. Maybe she was feeling overworked, or upset about still being single," she recalls from the safety of a shelter run by a charity.
More 'obedient'
Rohyati filed a police report against her employer in February. She was driven to act after hearing what had happened to fellow Indonesian Erwiana Sulistyaningsih, whose horrific story of abuse and torture had become well publicised.
Photos of the 23-year-old, both eyes bruised from being struck repeatedly and whose hands and feet were charred from suspected chemical burns, made headlines around the world.
Now as her former employer, Law Wan-tung, goes on trial on abuse charges, public attention has turned to the treatment of Hong Kong's 325,000 domestic workers, who come mainly from Indonesia and the Philippines.
The city's chief of police, Andy Tsang, has been quoted as saying maid abuse is rare, but activists, charities and academics disagree, saying Indonesians, as a group, are especially vulnerable.
Amnesty International wrote in a November report that thousands of Indonesian women trafficked to Hong Kong faced "slavery-like" conditions, and that the Jakarta and Hong Kong governments had failed to protect them from abuse and exploitation.
And a survey of more than 3,000 domestic workers conducted by the charity Mission for Migrant Workers in April 2013 showed that 58% reported suffering verbal abuse, 18% physical abuse and 6% sexual abuse.
Hans Ladegaard, a professor at Hong Kong's Baptist University who has been conducting research into maid abuse since 2008, says it is serious and pervasive.
He believes Indonesian workers are at more risk compared to their Filipino counterparts because they tend to be younger, less educated and speak less fluent English.
He says some families prefer to hire Indonesian helpers because they accept lower salaries than Filipinos, and are marketed by employment agencies as being more "obedient".
"That's what the agencies would tell employers. In my mind, that's basically permission to exploit and abuse them," he says.
'Be patient'
New hires from Indonesia routinely make less than the legal monthly minimum wage of HK$4,010 ($517, £308), until after they prove themselves in their jobs, he adds.
In the November report, Amnesty also criticises employment agencies in both Indonesia and Hong Kong for failing to protect their clients and, in some cases, deceiving them outright.
Before arriving in Hong Kong, Rohyati says she received three months' training from a centre in Semarang City in Java, where she learned how to cook, care for babies and the elderly, and some basic Cantonese.
Her salary in the new job was HK$3,920, less than the legal minimum. From that, she had to pay HK$2,543 to the Hong Kong-based employment agency every month for six months for her training and recruitment.
When her employer's mother slapped her for the first time in mid-December, Rohyati says she spoke to the agency right away to ask for advice.
"I was told to be patient, to keep working and to wait for six months, until after I pay back all my fees before I could leave," she recalls.
Over the next two months, she says she continued to report the physical abuse to the agency, but to no avail.
Unlike Filipinos and some other nationalities, Indonesians are required to migrate only via recruitment agencies registered with the government.
Amnesty says: "The fear of having their contracts terminated and either not being able to secure a new job or having to repay a recruitment fee a second time compels many Indonesian migrants to remain in abusive and exploitative jobs."
Rohyati eventually reported her case to police with help from friends. Like Erwiana, Rohyati has filed an assault case against her employer. She is currently waiting for her trial date.
'Criminal consequences'
Mr Ladegaard, the academic, says it is not common for abused domestic workers to take legal action against their bosses.
"If we can prove abuse in Hong Kong, then, yes, there are laws in place to protect them. So Hong Kong is a step ahead of other Asian and Middle Eastern countries," he says. "But the problem is most cases don't go anywhere."
In his experience, the majority are reluctant to sue because the legal process can take up to a year or more, during which they cannot work.
"Most of them would argue: 'Who's going to look after my children? Who's going to provide for my family while I have a pending court case and have no income?' " Mr Ladegaard says.
Most of the abused workers he has met over the years opt to leave Hong Kong or change employers without filing complaints.
Hong Kong's Labour Commissioner Donald Tong said he disagreed with the assessment that maid abuse was pervasive here, saying most employers treat their employees well.
He says his department was shocked and surprised to hear about Erwiana, who left the city in January without notifying police. She told her story only after reaching Indonesia.
In light of her case, the Labour Department has this week ramped up its publicity efforts in areas where Indonesian domestic workers gather on weekends to inform them of their rights.
Mr Tong adds: "We will also be talking to the employers themselves, so that they know of the importance to treat their domestic helpers well, and the serious criminal consequences if they do not do this."
But he says the government has no plans to change a rule that requires all foreign domestic workers to live with their employers.
Activists say the live-in rule increases the risk of physical and sexual abuse, and exposes employees to unlimited working hours.
As for Rohyati, she says she hopes to settle her case as soon as possible and find another employer: "I don't believe all Hong Kong employers are abusive, and I hope to continue to work here."