China jails man for leaking military data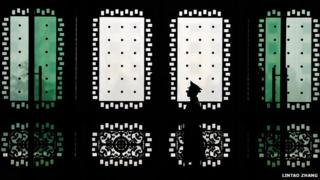 A man in Guangdong has been sentenced to 10 years in jail for leaking information on China's military, state media say.
News reports have not named the country which received the information, nor given the man's full name. He has only been identified by his surname, Li.
Li had leaked 23 classified documents, of which 13 were considered highly classified, state media said.
He had also passed along photos of military installations and movements.
Some of the information he had garnered was from military journals which can only be ordered and accessed domestically, according to Chinese media.
Military sites
Reports said that Li started work at a coastal city in Guangdong in 2000.
In May 2011, a stranger posing as a woman contacted Li on the Chinese instant messaging platform QQ and asked to be his friend.
People's Daily said the stranger acted "warmly" towards Li and showed a keen interest in his work and life, eventually becoming his confidante.
A month later, the stranger revealed to Li that he was actually a man, and called himself Feige (Flying Brother).
Feige supplied Li unspecified amounts of cash so that the latter could procure military journals through the national library.
Li also followed Feige's instructions to conduct long-term surveillance on key military installations, according to People's Daily.
Li is said to be not the only one recruited by Feige.
China News said that from 2007 onwards, Feige had befriended people through online bookshops and military enthusiast websites.
He is said to have recruited 12 others in Guangdong, and another 40 people in 20 other provinces.
The BBC's Martin Patience said Li's conviction follows a recent warning by China's military that protecting secrets was a "complex and grim" task.
China's President Xi Jinping last month called for a heightened awareness of national security, and warned that anyone who put China in danger by leaking state secrets would be "mercilessly dealt with", said China News.
In March, China demanded an explanation from the United States following reports in The New York Times that the US had infiltrated the servers of the Chinese telecoms giant, Huawei.
Huawei's founder and chief executive Ren Zhengfei told reporters on Friday that he had expected that the US would spy on his company, adding: "It has just been proved."
But China itself has also been accused of illicitly collecting military information on other countries.
Last year, the Pentagon's annual report claimed China was conducting a cyber espionage campaign collecting intelligence on US diplomatic, economic and defence sectors, which the latter denied.