China media: National security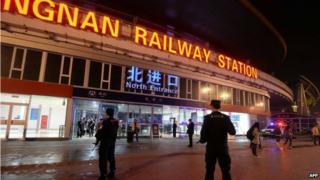 Discussions on national security dominated newspaper headlines as think-tanks warned of more attacks after an incident in Guangzhou.
At least six people suffered injuries in a knife attack at a railway station in Guangzhou on Tuesday. Local authorities believe the attack was carried out by a lone suspect.
It comes a week after an attack at a station in Urumqi, in the western region of Xinjiang. At least 29 people died in March in another attack at a station in the southern city of Kunming. Beijing authorities have blamed these two attacks on separatists from the Muslim Uighur minority group.
In this climate, a new report on national security is getting prominent coverage in the media.
"Domestic terrorism has surged in 2013 and it is targeting symbols of authority such as government buildings," according to the first National Security Research Report, or the Blue Paper, released by China's University of International Relations and Social Sciences Academic Press on Tuesday.
This is the first "authoritative" report on security issues compiled by several national experts in the country, China Net says.
The report stated that China faced at least 10 terror attacks last year, signalling that more needs to be done to ensure national security.
The Blue Paper also said Beijing's interests had expanded overseas, and Chinese nationals abroad could be targeted by international terrorism.
Wu Shaozhong, a security intelligence expert from People's Public Security University of China, told Haiwai Net that "it is difficult for terrorists in China to obtain guns and that is why they are using resources like knives".
"Knives and petrol, which can be easily obtained, are the favourites of terrorists in China and these simple weapons are no less dangerous," he said.
Liu Hui, chief editor of the report and a professor at University of International Relations, told Beijing Youth Daily that President Xi Jinping's decision to head the new National Security Commission highlighted the country's emphasis on dealing with security problems through strategic thinking.
She added that "the scope of national security is no longer confined to military issues but will encompass other areas like economic and food safety".
Meng Jianzhu, the head of the Commission for Political and Legal Affairs of the Communist Party of China Central Committee, announced that special operations had been launched to curb terrorism in the country, reports said.
He added that law enforcement units and judicial departments were using new technologies to detect and remove security threats.
Railway diplomacy
Premier Li Keqiang, who is on a week-long tour of Africa, has offered to help the continent develop a high-speed rail system.
He reached Nigeria on Tuesday in the second leg of his week-long tour after visiting Ethiopia. He will also visit Angola and Kenya.
Mr Li said in his address to the African Union in Addis Ababa that China would work with the continent to boost pan-African development, according to reports.
Experts told Beijing News that the export of high-speed rail technology shows that "we are no longer workers, but have become the designer and the pioneer in technology".
"China has contributed much to Africa in terms of communications and connectivity. We are helping them with our technology and financing to help them realise the African dream," said Liu Guijin.
An article in 21st Century Business Herald called this initiative "railway diplomacy".
"The high-speed rail technology has become China's pride. The frequent mention of the high-speed rail in our relationship with other countries show that this is a breakthrough in Beijing's strategic relations with other countries," it said.
BBC Monitoring reports and analyses news from TV, radio, web and print media around the world. For more reports from BBC Monitoring, click here. You can follow BBC Monitoring on Twitter and Facebook.