China journalist Gao Yu detained in Tiananmen lead-up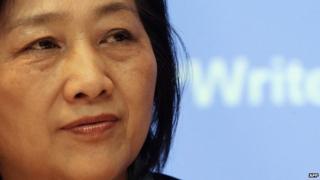 Prominent journalist Gao Yu has been "criminally detained", China has announced, as the 25th anniversary of the Tiananmen Square protests nears.
State news agency Xinhua said the 70-year-old had leaked a confidential document to a foreign website.
Ms Gao had been reported missing since 24 April by family and friends. Authorities confirmed they had detained her on this date.
She joins several other government critics rounded up in recent days.
Ms Gao had illegally obtained the document and sent it to the website last year, said Xinhua. The document was later widely reposted abroad, it said.
State television network CCTV aired a video of a woman said to be Ms Gao confessing on Thursday morning.
The woman, whose face was blurred, said: "I admit that what I've done touched on legal issues and threatened national interests."
"My actions were very wrong. I have sincerely learnt my lesson, and I admit my guilt."
Asked by the BBC if he could identify the document in question, Ms Gao's lawyer Teng Biao said he agreed with online speculation that it could be "Document Number 9", which Ms Gao had written about last year.
The document is said to detail the government's vision of pushing economic reforms while maintaining ideological controls and preventing the spread of ideas such as democracy, civil society and freedom of press, said agencies.
Mr Teng said the government intended to "set examples to whoever wants to hold events related to 4 June", and expressed concern that the situation would worsen.
Amnesty International said on Thursday that Ms Gao's son, Zhao Meng, had also not been heard from since 24 April.
The group said that Ms Gao's television confession was likely to have been made under duress which would thus "negate any chance of a fair trial".
'Deeply concerned'
China tends to detain dissidents ahead of significant events such as the 2008 Olympics and previous Tiananmen anniversaries, but this anniversary is particularly sensitive given the 25-year milestone.
A number of activists were rounded up on Tuesday, including well-known human rights lawyer Pu Zhiqiang, lecturer Hu Shigen, researcher Xu Youyu, writer Liu Di and professor Hao Jian.
They had attended a seminar on the Tiananmen protests on Saturday.
Mr Pu has represented many Chinese dissidents, including well-known artist Ai Weiwei.
The United States has condemned China for the arrests of Mr Pu and others, saying it is "deeply concerned".
State Department spokeswoman Jen Psaki said Saturday's meeting was to "peacefully" mark 4 June, the date of the 1989 government crackdown against protests held in Tiananmen Square.
"We call on Chinese authorities to release these individuals immediately," said Ms Psaki.
Human Rights Watch spokeswoman Sophie Richardson called the wave of arrests "a very powerful statement".
It was "a warning to that community that the new Xi Jinping government is not particularly tolerant of civil society, involvement in or criticism of state policies", she told Reuters.
The Chinese government also appears to have been stopping dissidents from entering the capital for the anniversary.
Human Rights in China said that an activist who lost her son in the 1989 protests, Ding Zilin, had been banned from re-entering Beijing for several weeks.
She and her husband, who have been travelling in another part of China, would only be allowed back into the capital one day after 4 June, the group said.