China media: South China Sea tensions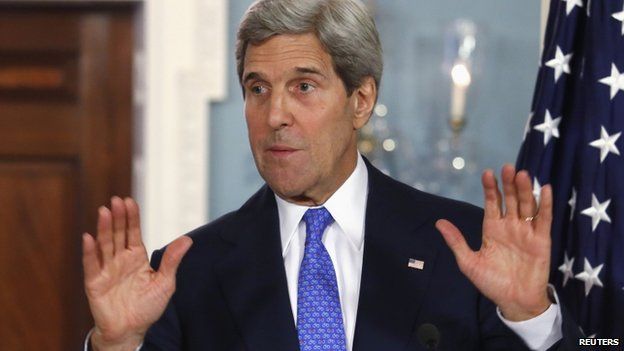 Media urge the US to "respect" Beijing's territorial rights in the South China Sea.
Last week, Chinese and Vietnamese ships clashed over the drilling rig that China placed recently in waters near the disputed Paracel Islands.
In a telephone call, US Secretary of State John Kerry told Chinese Foreign Minister Wang Yi that Washington had "strong concerns" over recent developments.
Major papers are reporting the Chinese foreign ministry's response that Mr Kerry's remarks are likely to "encourage provocations from some countries".
It adds that "patriotism will surge" as maritime friction in the South China Sea increases.
"However, this patriotism should be a rational one, we should allow the diplomats to have more power to decide their next move and support them together as a passionate and mature Chinese society," it says.
Analysing Washington's "tougher stance", Yuan Peng, deputy president of the China Institute of Contemporary International Relations, tells the China Daily that the Obama administration might be rallying domestic support for the midterm elections.
He speculates that the White House may tweak its East Asia policy to court "its treaty allies and China" after the elections later this year.
Meanwhile, papers report that Fang Fenghui, the chief of general staff of China's People's Liberation Army, began his four-day visit to the US on Tuesday.
He will meet his US counterpart General Martin Dempsey and visit American warships.
Zhu Chenghu, a professor at the National Defence University, tells the media that the US is "being open to China's military" by allowing General Fang to tour its defence facilities.
Elsewhere, media discuss the agenda of a conference in Shanghai that Russian President Vladimir Putin has agreed to attend.
The 4th Conference on Interaction and Confidence Building Measures in Asia (CICA) Summit will be chaired by Chinese President Xi Jinping. It will run from 20 to 21 May, coinciding with a China-Russia joint naval exercise in the East China Sea, according to the Liberation Army Daily.
"The leaders might talk about the ongoing Ukraine crisis, but it will not be the main topic to be discussed," Feng Yujun, Director of Russian Studies at the China Institute of Contemporary International Relations, tells the Beijing News.
Echoing similar views, Wu Enyuan, a Russian affairs expert, adds that Beijing and Moscow are likely to focus on bilateral co-operation in international strategies during the conference. Other experts add that energy and investment agreements will also be brought up during the meeting.
And finally, state media outlets support the arrest of journalist Xiang Nanfu for allegedly posting "fabricated information" on a foreign news site.
Commentaries say the "false stories" that Xiang Nanfu published on Boxun website have "seriously harmed" China's image.
An article on the Haiwai Net comments that the arrest of Mr Xiang "shows that it is necessary to clean up the internet through legal means to protect national interests and social order".
Shan Renping, a commentator at the Global Times Chinese edition, criticises the Boxun website - a US-based Chinese news site that includes citizen journalist reports on protests and human rights - for providing "low quality content" filled with "exaggerations" and grammatical errors.
He suspects Boxun website is "receiving political funding from those who hate the communists and China".
"The influence of such websites is dwindling as the funding from the West is in decline… However, they have repackaged themselves, turning to the Chinese social media to post their extreme views. Netizens have to be wise to discern real and fake information," he adds.
In a statement on its website, Boxun said Mr Xiang had written about petitioners and rejected the claim that he had been paid for his reports.
BBC Monitoring reports and analyses news from TV, radio, web and print media around the world. For more reports from BBC Monitoring, click here. You can follow BBC Monitoring on Twitter and Facebook.
Related Internet Links
The BBC is not responsible for the content of external sites.