China media: Vietnam tensions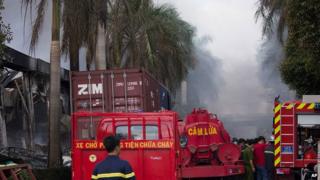 Media criticise Vietnamese authorities for "fanning nationalism" amid anti-China protests in the country.
At least 15 foreign-owned factories were set on fire and hundreds more attacked by thousands of protesters at two industrial parks in southern Vietnam on Tuesday.
The protests came after China moved a drilling rig into waters also claimed by Vietnam earlier this month.
Li Jinming, a professor of South China Sea studies at Xiamen University, tells the China Daily that Vietnam is "provoking China on land and sea in a high-stakes gamble".
Historian Li Guoqiang describes the incident as "high-profile propaganda" by the Vietnamese authorities that "resulted in riots".
"The incident will not only harm relations with China but also endanger Vietnam's international image, especially as an investment and tourist destination," he tells the daily.
Echoing similar sentiments, the Global Times' Chinese edition states that the riots have "seriously harmed foreign investors" and they should be "compensated for damages incurred".
"Others could easily see that Hanoi authorities have permitted the riots and public opinion has still not condemned the rioters," it notes.
An article in the Beijing News comments that both the Philippines and Vietnam are "hyping up the South China Sea problem" to "divert" attention from other domestic issues.
"Both countries are facing a myriad of issues including serious corruption, rising unemployment and social conflicts. They are making use of the South China Sea problem to fan nationalism and divert attention on these domestic issues," the paper says.
Meanwhile, media urge foreign companies "not to challenge" China's laws, as an employee of a British pharmaceutical firm is probed for bribery.
Police have accused Mark Reilly, an executive at GlaxoSmithKline (GSK), of ordering staff to bribe hospital officials in China.
Mr Reilly and two other colleagues are also suspected of bribing government officials in Beijing and Shanghai, police say.
GSK said it took the allegations "very seriously" and would co-operate with the authorities over the matter.
"This is not a singular case, but one of the examples showing China's increasing effort in fighting corruption," Zhu Guohua, a law professor at Tongji University, tells the Global Times.
He recalls that several foreign companies have faced corruption allegations in recent years, prompting the government to tighten the commercial graft law.
The Beijing Times notes that some multinational corporations are "still expecting preferential treatment".
It urges the authorities to improve the market mechanism and strengthen the legal system to deter foreign enterprises from "challenging Chinese laws".
"The case also shows that the Chinese market mechanism is far from perfect and these corporations are making use of the loopholes for their own benefit," it adds.
'Anti-mainland' sentiments
Elsewhere, media reflect on "anti-mainland" sentiment after a Taiwanese singer said he did not welcome people from the mainland..
Veteran singer Bobby Chen, whose songs are popular in the mainland, has supported protests against a trade pact with China.
Earlier in March, hundreds of students occupied the Taiwan government's headquarters to protest against the Cross-Strait Service Trade Agreement.
Protestors said the deal, which would allow the two sides to invest more freely in each other's services markets, would hurt Taiwan's economy and leave it vulnerable to pressure from Beijing.
"We do not need to earn so much money. Do we have to sacrifice our quality of life? I hope the mainlanders don't come to Taiwan," the singer told Taiwan media outlets.
His comments gained wide attention in China and sparked heated online debate, prompting a response from China's Taiwan Affairs Office.
"His views are not representative of the majority in Taiwan's society," says Ma Xiaoguang, spokesperson of the office.
An article on the Tencent web portal points out that Bobby Chen's remarks represent the views of the younger generation in Taiwan.
"Some of the mainlanders thought Taiwan would feel indebted by accepting the agreement. Such views do not help in relieving cross-strait tensions," it adds.
Observing that negative emotions between netizens in the mainland and Taiwan have been running high, a commentary on the Beijing News calls for more understanding among people.
"There have been more exchanges between the people in recent years, so it is strange that the enmity is growing instead. We need deeper and more sincere interactions for us to rediscover each other," it says.
BBC Monitoring reports and analyses news from TV, radio, web and print media around the world. For more reports from BBC Monitoring, click here. You can follow BBC Monitoring on Twitter and Facebook.