China media: Violence in Vietnam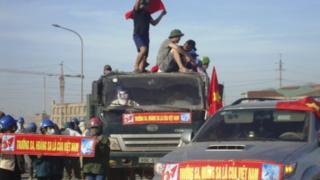 Media urge Hanoi to "shoulder full responsibility" for the "lethal riots" in Vietnam amid escalating tensions between the two countries.
At least 15 foreign-owned factories were set on fire and hundreds more attacked by thousands of protesters at two industrial parks in southern Vietnam on Tuesday.
A protest also took place on Wednesday at a Taiwan-owned plant. Local officials said one Chinese man was killed in the violence and almost 150 injured.
The protests came after China moved a drilling rig into South China Sea waters also claimed by Vietnam earlier this month. Despite the riots, China says its oil rig will continue drilling.
The China Daily asks Hanoi to "end the violence" and "shoulder full responsibility for whatever serious consequences the crimes will have on China-Vietnam ties".
"There is reason for people to question how the demonstrations could turn into such a deadly rampage against foreigners and their businesses in Vietnam, and why the relevant local governments failed to prevent the protests from turning fatal," it says.
The daily adds that "the lethal riots are proof that China's calls for dialogue" over territorial claims "have fallen on deaf ears in Vietnam".
Criticising Hanoi authorities for forcing public opinion to turn against China, the Global Times' Chinese edition says Vietnam has ended up "embarrassing itself".
"The truth is that the Vietnam government does not know the boundaries of nationalism and neither do they have ability to control the violence," it remarks.
The paper urges the Chinese society to "display calm" as China has the "strength to remain composed".
"Beijing's position on the oil rig drilling has not shifted at all, but Vietnam is in a mess now, the difference itself already tells us a lot," it says.
Echoing similar sentiments, a commentary in the Hong Kong-based pro-Beijing Ta Kung Pao daily warns of economic repercussions for Vietnam.
"Accept it or not, China is now having more say in the economic integration in Asia. If you provoke Beijing, you will be marginalised economically. You will lose opportunities in development and the room for co-operation will be squashed. It will be much more difficult for a small country like Vietnam," it says.
In a milder tone, the Beijing News urges Hanoi to "effectively protect Chinese as well as all foreign companies based in Vietnam".
"We hope the Vietnamese PM will protect the safety of foreigners and property. This is not only an international commitment, but it will also affect Vietnam's immediate interest," it says.
Meanwhile, China's netizens are urging the Chinese government "to do more" while dealing with Vietnam.
"Our government only knows how to protest verbally. Can we learn from Russia's President Vladimir Putin to put words into actions?" says a netizen on Weibo, China's version of Twitter.
Other Weibo users complain that some media outlets are trying to portray a "peaceful world" by giving limited coverage to the incident.
"Every country is reporting these massive anti-Chinese riots, yet our papers are carrying trivial news on their front-page! China, when are you going to show real concern for your citizens?" says one netizen.
BBC Monitoring reports and analyses news from TV, radio, web and print media around the world. For more reports from BBC Monitoring, click here. You can follow BBC Monitoring on Twitter and Facebook.