China media: Beijing-Moscow ties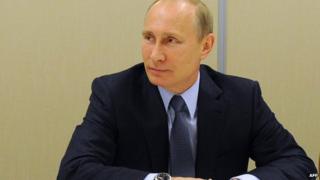 Media welcome Russian President Vladimir Putin to Shanghai, amid criticism of anti-China riots in Vietnam.
Mr Putin is due to arrive in Shanghai on Tuesday to attend the 4th Conference on Interaction and Confidence Building Measures in Asia (CICA) Summit.
The conference, chaired by Chinese President Xi Jinping, will run from 20 to 21 May, coinciding with a China-Russia joint naval exercise in the East China Sea.
A commentary in the Beijing Youth Daily points out that Mr Putin's planned arrival has caused "anxiety" in the West, prompting speculation that Beijing and Moscow will be forming an alliance to confront the US and the EU.
"This 'imaginative alliance' does not suit the diplomatic strategy of China's new leaders… Beijing will only be an active participant in international order and it is a responsible and peaceful country," says the article.
It adds that Mr Putin might discuss the ongoing crisis in Ukraine with Mr Xi, but it will not be the main focus of the meeting.
"Bilateral agreements on natural gas will be an urgent concern for Moscow and it is beneficial for Beijing's long-term economic growth. China's energy market is very valuable to Russia because it is facing economic sanctions from the West," it says.
Terming the "alliance to confront the West" as "an outdated Cold War mentality", the People's Daily calls for stronger unity among Asian countries.
"All countries in Asia have realised the urgency and importance of security co-operation. They are voicing out that Asian countries should strengthen such co-operation and be in the lead to deal with regional affairs," it says.
Meanwhile, the Chinese navy states that the joint exercise with Russia is "not targeting any third party".
The China Youth Daily adds the bilateral exercise will "improve military strategic partnership" and will "promote peace and stability in the region".
Elsewhere, media continue to criticise Vietnam for encouraging nationalism as China suspends parts of its bilateral exchange programme with Hanoi.
This step comes after anti-Chinese riots broke out in Vietnam last week, causing the death of two Chinese nationals and leaving dozens more injured.
The protests have been triggered by China's decision to move an oil rig into the disputed waters of the South China Sea.
"China's decision to cancel parts of its exchange plans shows Beijing's firm will to safeguard its sovereignty and protect Chinese nationals," Xu Liping, a South East Asian affairs expert at the Chinese Academy of Social Sciences, tells the China Daily.
The Global Times' Chinese edition points out that Beijing's series of actions is "a form of putting pressure on Hanoi".
"The speedy evacuation of the Chinese nationals shows the real strength of China, and also the determination of the government to protect its nationals based overseas," it adds.
Echoing similar sentiments, a commentary in the Hong Kong-based pro-Beijing Ta Kung Pao daily adds that Vietnam has "under-estimated China's determination and power in protecting its sovereign rights".
"It has also wrongly estimated the tolerance level of Beijing as well as the international community towards the violence… These incidents have seriously hurt Vietnam's international image," it says.
Beijing-Delhi ties
And finally, media and experts expect a better Delhi-Beijing economic relationship after a pro-business party's triumph in the recently-concluded general elections.
The main opposition Bharatiya Janata Party, led by Narendra Modi, comfortably defeated the ruling Congress on Friday.
Reports say Mr Modi has a strong mandate for his pledges to revitalise the economy.
Ma Jiali, a researcher at China Institute of Contemporary International Relations, told the Beijing Youth Daily that Mr Modi's victory would mean closer Beijing-Delhi economic co-operation.
"However, there is still a lack of mutual trust between the two countries due to border disputes," he says.
Yang Mian, expert on international affairs at Communication University of China, notes that though Mr Modi had emphasised taking a strong position on border disputes during his election campaign, he may "tone down the rhetoric when he is in power".
"Overall, the bilateral relationship is a friendly one, and more so in terms of economic co-operation," he tells the Inner Mongolia Daily.
BBC Monitoring reports and analyses news from TV, radio, web and print media around the world. For more reports from BBC Monitoring, click here. You can follow BBC Monitoring on Twitter and Facebook.